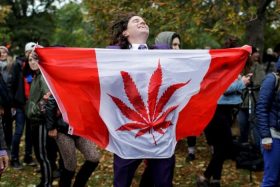 15.01.22.  
Pot smoking is legal in Canada, keep that in mind. However, since the outset of the Covid pandemic bizarre thinking has pervaded the grey matter of those in authority. Such incidents are simply too numerous to compile, although, somebody with nothing to do just might do that so investigative journalists can shove it in the faces of our elected idiots. There appears to exist a
prima facie
case that the Chinese Wuhan Covid has done more than attack the respiratory system of its victims, it has penetrated the brains of most, if not all politicians. The proof is in the two articles posted below.
Ronald McDonald Houses in British Columbia and Yukon, Canada, plan to evict child cancer patients and their parents if they don't get the COVID-19 shot by the end of January. "Beginning January 17, 2022, everyone five years and older who are working, staying, or visiting our facilities (both the House at 4567 Heather St, Vancouver and at the Family Room in Surrey Memorial Hospital) must show proof of full vaccination (two doses), in addition to completing our existing screening, unless an Accommodation has been sought and has been explicitly approved and granted by RMH BC in writing," a letter from RMH British Columbia & Yukon Senior Director of Family Services Leslie Louie states.
Source: Jordan Boyd, The Federalist
Canadian Ronald McDonald House Threatens To Evict Unvaccinated Child Cancer Patients And Their Parents
The letter was sent to all families on Monday and only gives them a few weeks with a Jan. 31 grace period deadline to submit their vaccine passports to the RMHBC administration, which usually provides housing to families of sick children in need of regular hospital treatment.
Austin Furgason and his wife Lindsey, who are staying in the Vancouver Ronald McDonald house while their 4-year-old son receives treatment for leukemia, are just two of the people who RMH plans to kick out on Jan. 31 unless they get the COVID-19 jab.
In a video posted to Facebook, Furgason confronted a manager in the Vancouver house demanding answers on why the charity is demanding vaccination when the shot clearly doesn't stop the spread of COVID-19.
"What we're doing is protecting the safety of everybody in the house," a RMH worker told Furgason.
"No, you're not," he replied. "Because a vaccinated person could still get it and transmit it."
Furgason explained that the family has lived in the facility for months and isn't due to leave until later in 2022.
"You're evicting kids with leukemia, kids who have strokes. Kids with Down syndrome. Do you understand how evil this is?" Furgason asked. "This is just so messed up."
Furgason told a Canadian news outlet that his son, Jack, is doing "really good" because "God's been doing miracles for our kid," but lamented the fact that RMHBC and Canada have decided "segregation" of people based on their vaccination status is the solution to COVID.
"No matter what people's beliefs are, everyone donates to this place because everyone wants to save dying kids," he said. "If there was anything left to unite our country, this would have been it. And still, they find a way to segregate us and divide us even more. … I'm broken inside for our country just how fast this has accelerated."
RMH in Vancouver did not immediately respond to The Federalist's questions about how many sick kids and their families would be displaced as a result of the policy. The organization did tell a local outlet, however, that it would "work to find alternate housing for families who refuse to get everyone over the age of five vaccinated by the Jan. 31 deadline."
The RMHBC website states that "all guests and visitors to the House must show proof of full vaccination against COVID-19."
"We continue to restrict access to the House and are practicing COVID-19 safety protocols including: screening, temperature checks, physical distancing, enhanced cleaning protocols and mandatory mask wearing in all common spaces," the message banner on the website's front page reads. "These measures in addition to an abundance of sanitizer and kindness will help us ensure the safety of everyone at the House."
The U.S. RMH did not immediately respond to The Federalist's questions about whether it plans to implement a COVID-19 vaccine mandate as well.
Jordan Boyd is a staff writer at The Federalist and co-producer of The Federalist Radio Hour. Her work has also been featured in The Daily Wire and Fox News. Jordan graduated from Baylor University where she majored in political science and minored in journalism. 
***********************************************************************
Source: Sarah Turnbull, CTVNews.ca
Quebec's tax on unvaccinated: Trudeau says 'strong measures' have worked
Prime Minister Justin Trudeau says "incentives and strong measures" have worked in the fight against COVID-19, weighing in on Quebec's proposed tax on unvaccinated residents.
Speaking to reporters on Wednesday during a pandemic update, Trudeau said Ottawa is reviewing Quebec's plan to penalize those without a medical exemption with a financial levy "with interest" and is awaiting more details from the province.
"As we've said, incentives and strong measures, whether it's vaccine passports, whether it's requirements for travellers, whether it's the requirement for public servants to be fully vaccinated, we have taken very strong measures in the past and they have worked in terms of keeping Canadians safe," he said.
"We will continue to look and work with the provinces and look at measures put forward."
Quebec announced on Tuesday that it will introduce a financial penalty in the coming weeks for those refusing to get the jab as the health-care system there continues to feel the strain of mounting COVID-19 cases.
Premier François Legault said $50 or $100 wouldn't be "significant" enough for him.
Trudeau said the province assured the federal government that the key principle of the Canada Health Act – that everyone has equal access to health care without financial or other barriers – would be respected.
Health Minister Jean-Yves Duclos added to the prime minister's remarks, noting that vaccine mandates have proven effective.
"On vaccine mandates, the key word here is benevolence. Both the language and the actions are there and designed to protect people. This is a severe disease, we want people to be protected against it… No one, I believe, is thinking or certainly speaking of forcibly, physically vaccinating people in Canada," he said.
The federal government announced in August it would require vaccination in the federal workforce and the federally regulated transportation sector.
Duclos echoed his sentiment relayed at last week's government press conference that he suspects more stringent vaccine mandates across the country will be a topic of conversation in the days and weeks to come.
The prime minister was quick to call out the Conservative Party for continuing to stir up a debate about accommodating the unvaccinated in Canada.
"Mr. O'Toole is out to try and protect his own leadership and he's not thinking about protecting the health-care workers who are on the frontlines," he said.
"Trying to pretend that rapid testing, or testing in general, is as good as getting vaccinated is simply irresponsible."
O'Toole has long stated that while he supports vaccination, and encourages Canadians to get vaccinated, there must also be efforts made to make "reasonable" accommodations for the unvaccinated.
The Conservative Party has not issued a public statement on Quebec's proposal.
During a separate press conference on Wednesday, NDP health critic Don Davies said the party is interested in government approaches that encourage people to get vaccinated.
"Fundamentally we think that education and information particularly targeted at vaccine hesitant people and parents who are concerned about vaccinating their children are productive ways to encourage people to get vaccinated," he said.
He added that while he hasn't had the chance to chat with his caucus about the plan, it's unclear the predicted impact of a $100 tax.
More than 7,000 people in Quebec registered for their first dose of a COVID-19 vaccine Tuesday.
"Our highest in several days," tweeted Quebec Health Minister Christian Dubé, noting that 5,000 appointments were also made on Monday.