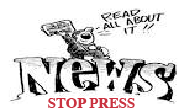 You must read this!
ALBRECHSTEN PUNISHED
Andrew Bolt, Herald Sun
The Australian must be disturbed that one of its star columnists is punished like this:
Janet Albrechtsen, a senior columnist with The Australian, has backed-in claims that Malcolm Turnbull vetoed the renewal of her term on the board of the National Museum of Australia because she gave him critical coverage.
Conservative commentator Andrew Bolt … said Mr Turnbull had overruled early moves by his Arts Minister Mitch Fifield to reappoint Albrechtsen to the Council of the National Museum of Australia because he was displeased with her columns…
Contacted by The Australian, Albrechtsen backed in Bolt's version of events.
Liberals must also worry that a conservative warrior is dumped from a cultural body for not being supportive enough of their leader personally.
Wow. so Janet is dumped but a Turnbull mate is made head of the ABC, which he promptly declares free of any detectable bias.