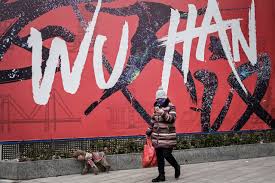 24.02.21.  
The leading premise in the WHO's charade into Wuhan in search of the COVID-19 source must begin with—Beijing will lie—and lie and lie! The West should rely on the Koran and the neat little caveat of, "Taqiyya". It serves to render any lie or deception excusable when used in pursuit of the regime—Allah for Islam and the communist Party for Beijing.
The Wall Street Journal reported on Feb. 12, that Dominic Dwyer, a member of the WHO expert team and an Australian infectious disease expert, said that when the WHO expert team conducted an investigation into the source of the epidemic in Wuhan, the CCP refused to provide the data of 174 COVID-19 patients in the early stages of the outbreak, as well as data on pneumonia patients who may have been infected by the virus earlier than December 2019.
Source: Alex Wu, Epoch Times
CCP Withheld Pandemic-Relevant Data From WHO, Leaked Documents Reveal
According to the report, the CCP only provided influenza surveillance data from one children's hospital and one general hospital. The report cites WHO experts saying that one of the reasons for the regime refusing to provide COVID-19 origin tracing data is its lack of early influenza data. However, a number of internal documents issued by the Chinese regime's centre for disease control and health departments in 2019 and 2020 that had not been disclosed to the public were not given the WHO team for examination.