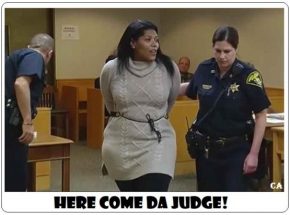 Recent advances in Bludgery
It's never too early to learn that the government is a greedy piglet that suckles on a taxpayer's teat until they have sore, chapped nipples.
Exemplifying the spirit of this truth is a US Judge Astacio, often dubbed "drunk judge" by local media and Rochesterians.
On April Fools Day just over a week ago the drunken judge received a state taxpayer-funded pay raise of $A25,000 bringing her salary to a whopping $A370,000 — after she worked only one day in the last 7 months.
According to the local radio station, Astacio reported for work on Tuesday, February 27 for one day – and has not been back since. That's not the end of it.
Before her one day on the job in 2018, Astacio had not reported to work since August 31 the previous year.That makes it a total of a full year on full pay for one day's work – and all she did was 'report' for work on that one day. There is no indication that she heard any cases or gave any advice or whatever.
It sounds mighty like a one-day work stunt to overcome some legal requirement if you haven't worked for a year you can sling your hook.
By letter, Chief Administrative Judge Craig Doran ordered the judge back to the bench on February 26; Doran confirmed Monday that Astacio is still continuing to slagging off work.
Question is whether the judge ordered her back knowing she would only 'report.'
Da judge is sick and tired, she says, with the "negative" and "racist" news coverage of her apparently inappropriate raise. On Facebook, Astacio said she did not report to work because she had a "medical excuse" and has reportedly provided Doran with a doctor's note. Ms. Astacio whined about a potential privacy violation for the paper's telling of the facts.
In August of 2016, Astacio was convicted of driving while pissed and was put on probation. On at least two other occasions she was tagged again for the same thing and given a spell in the jug to think about it. In June, from behind bars, Astacio was raking in her then-$350,000 annual taxpayer-funded salary.
According to Astacio, she deserved her raise when you think of all the bloody fat books she had to read; and the media are "biased" in their reporting on her because they are "racist." Apparent in this statement is that the media wouldn't have given a toss if a white woman judge had been tagged three times in a year driving while blootered.
"Why's my name in the headlines?" she asked in Facebook. "Because your (sic) racist news stations … You're mad because I'm a young minority getting paid."
She's a 'young minority?" There's many a chile would like to be a young minority like that, including me.
She also complained about the photo choice, "Also I hate that picture spectrum do better," she wrote, heedless of punctuation.
And she wasn't done yet. In three different Facebook Live videos, Astacio complained about her treatment.
"Do you know how many judges got a raise?" she said in one video, again defending her raise. "It's not like I went and petitioned for a raise. No … all the judges got raises."
"There's just no rules that really apply when it comes to me," she complained. Yes, this seems to be the very problem taxpayers have complained about as well, yr'onner.
"It is biased reporting to talk about me getting a raise when everyone got a raise," Astacio whining some more, adding, "This isn't news."
"This isn't news." No, unfortunately, it was a case of hitting the nail right on the spot. It's not news that public servants have the slackest work performance records coupled with the highest job security and inappropriate wages.
What's that little song they sing in the morning assembly, it goes to the tune of the Red Flag or O Tannenbaum? Gottit!
The working class
Can kiss my arse
I got a guv'ment
job at last!
Now here's a clue; she is currently being investigated by a state Commission on Judicial Conduct, which could result in the stripping of her judicial duties.
She sees the writing on the wall and has decided to bluff it out. If she loses, well she had a great holiday, if she is not stripped of the job, she can go back and bludge as well as judge.
Until 2024.