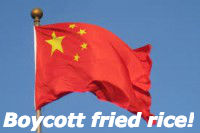 21.07.21.  
Contingent also to closer Australia/US military ties marked out in the article below is that the UK will permanently deploy two warships in Asian waters after its Queen Elizabeth aircraft carrier and escort ships sail to Japan in September through seas where China is vying for influence with the United States and Japan. The UK's Ministry of Defence made the announcement at a high-level meeting in Tokyo. Plans for the high-profile visit by the carrier strike group come as London deepens security ties with Japan. A welcome move indeed as democratic nations gather to show solidarity in the face of Beijing's overt bastardry!
Australia and the US are in talks to deepen their military co-­operation, with plans for new ­exercises on Australian soil ­including joint training with American army soldiers. The aim is to strengthen the ­interoperability of the nations' ­forces amid growing strategic threats, by expanding the frequency and variety of US training missions in Australia. The proposed exercises with the US army would be modelled on the annual rotation of Marines through Darwin, and use a variety of military training areas including those in Queensland.
Source: Ben Packham, News Corp
US forces give the nod to closer ties
The planned training expansion is being discussed ahead of an August meeting of Australian and US four-star generals and intelligence community leaders in Washington.
The annual US-Australia Military Representatives (MILREPS) meeting is a precursor to minister-level AUSMIN talks, which are ­increasingly likely to be held in Washington this year, despite it being Australia's turn to host.
"The challenges we face in this region are real," said a source familiar with the discussions.
"Expanding training opportunities in Australia with American forces makes us that much more interoperable, especially if we can bring in other countries to train with us. That makes both our countries, and our region, more secure and prepared for the future."
It is understood Defence Minister Peter Dutton and Foreign Minister Marise Payne are planning to head to Washington for the annual "2+2" talks soon after the 70th anniversary of the ANZUS Alliance on September 1. Scott Morrison is also considering visiting the US in September to celebrate the anniversary with US President Joe Biden, as well as address the UN general assembly and attend a potential face-to-face meeting of Quadrilateral Security Dialogue leaders.
This would see him meet Mr Biden, Indian Prime Minister Narendra Modi and Japanese Prime Minister Yoshihide Suga.
The push to ramp up joint training with US forces in Australia is consistent with America's shift in force posture, which aims to build more nimble and geographically distributed capabilities across the Indo-Pacific in preparation for a potential conflict with China. It comes as nearly 17,000 Australian and US personnel participate in Exercise Talisman Sabre – the allies' biggest bilateral training mission – at Defence ­facilities across Queensland.
This year's exercise, which also involves contingents from Japan, Canada, Britain and New Zealand, is being closely watched by two Chinese spy ships, reflecting Beijing's growing interest in how the nations' militaries work together.
The Morrison and Biden ­administrations are also in the midst of delicate negotiations to build guided missiles in Australia using top-secret US technology, and store US weapons and equipment at Top End bases.
Australian Strategic Policy Institute executive director Peter Jennings said practical military co-operation with the US was Australia's best immediate option to deter would-be adversaries.
"I think what you are seeing is the fulfilment of a strategy that was really set down by Jim Mattis when he was secretary of defence, to give the US military more ­options to disperse its forces in the event of an attack from China," Mr Jennings said.
"Australia plays, potentially, a really important part of that because we are sufficiently far enough away, we have infrastructure that can be used, and we are an alliance partner. The benefit for Australia is a larger more regular American military presence here is the best deterrence that we can buy in the short term."
He said joint training exercises kept the US engaged in Australia's immediate region, and ­required it to have a working military strategy in which Australia could assist.
Mr Jennings said the deepening of military co-operation with the US should include more visits by American ships operating out of Darwin, HMAS Stirling, south of Perth, and the nation's east-coast naval bases. He said it highlighted the strategic importance of the Port of Darwin, which was inconsistent with China's ownership of the facility.
The Australian revealed last month that Japan was interested in making greater use of Australia's remote training facilities and weapon ranges, as well as undertaking more joint exercises with the Australian navy.
At the commencement of ­Talisman Sabre last week, Mr Dutton said Australia and the US needed to work together to deter "egregious forms of coercion and aggression". "Through military preparedness, we hone our collective readiness to respond to the direst of contingencies, should they be realised," he said.
US charge d'affaires Gavin Sundwall said no two militaries worked more closely together than those of Australia and the US. "In the face of adversity, whether it be security concerns, combat operations or humanitarian assistance and disaster relief efforts, Talisman Sabre has proven to us time and time again that we are flexible and ready for anything," Mr Sundwall said. "As our militaries come ­together throughout this month to train, they help us advance an open, interconnected, resilient, and secure Indo-Pacific, strengthening our relationships and interoperability among key allies."
The annual Marine rotation through the dry season in the Northern Territory peaked at 2500 US personnel in 2019, with 2200 troops arriving this year due to Covid restrictions.
US strategic bombers, including B-52s, B-1B Lancers and B-2 Spirits, also rotate through Australia's north, with fuel and weapons storages and a longer runway built at RAAF Tindal near Katherine to accommodate them.
In a first for Australia this week, a US Patriot Missile was fired at Talisman Sabre, prompting speculation the government could purchase the technology to protect exposed Top-End bases.
US troops also demonstrated the country's High Mobility Artillery Rocket Systems – another weapon that could be on Australia's shopping list.