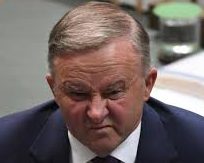 26.03.20.
Labor's Anthony Albanese stood in Parliament last week with muted voice and a solemn, sad-sack visage pledging his bi-partisan union with government regarding the COVID-19 pandemic. Albo might have better served himself and all involved had he executed a practice quarantine, maybe three or four months to stay out of the way. Perhaps Labor's mob have yet to recognise that poor-old Albo is sleepwalking them over the cliff.
The Labor Party has broken decisively from policy bipartisanship on the fight against COVID-19. Its attack on Wednesday was comprehensive, specific and personal. Sensing mounting concern about Scott Morrison's stance, Labor has dissented from the government and its medical advisers.
Source: Paul Kelly. News Corp
Coronavirus: Anthony Albanese in bed with Boris Johnson as games begin
Labor leader Anthony Albanese and his senior colleagues ­rejected Morrison's core strategy — fighting two crises, health and economic, together. Albanese ­repudiated this as a "false distinction", saying Labor saw health as the first priority followed by the economy "in that order".
He rejected the Morrison method of daily updates as "no good" for certainty and con­fidence. Aware that tougher measures are coming, Albanese called for "stricter shutdowns" of the economy. He accused Morrison of playing politics, confusing the public and seeking "to hector people and blame people".
Criticising the centrepiece of the second fiscal package, he endorsed the principle of "wages being paid" as adopted by Tory PM Boris Johnson.
The differences go to fundamentals. Labor now seeks growing product distinction between itself and the government as the infections spread. The split over the health strategy, messages and economic measures sets up a longer-run conflict guaranteed to dominate this entire parliamentary term.
In his media conferences on Tuesday night and Wednesday morning, Morrison was emphatic about his strategy. In implementing his non-essential economic shutdown, Morrison referred to a "twin crisis, a crisis on a health front which is also causing a crisis in the economy. And both of them can be as equally as deadly".
"My priority is to protect Australian lives and to protect their livelihoods," he said.
He was reluctant to close down businesses when "there's no medical advice" to this effect. While moving into shutdown mode, he said it was important the economy continued "to operate and function as much as possible".
Labor health spokesman Chris Bowen said: "I see people saying, well, the government's got to balance the economy against health. No. I completely reject that. The best economic plan for the country is to beat this virus quickly."
While Labor is pushing hard for more urgent action, it avoids saying exactly what parts of the economy it would leave open.
The constant government stance based on medical advice is there is no quick fix.
In his Tuesday night comments, Chief Medical Officer Brendan Murphy said if the public practised social distancing and followed Morrison's instructions, "that will achieve the outcomes that we want" — short of "destroying life as we know it".
With confusion about schools, long queues at Centrelink offices, the Ruby Princess fiasco and Premier Daniel Andrews announcing that Victoria was heading to stage three shutdowns, Albanese said: "They (people) are confused that each day the government seems to be making different ­announcements about the way they should act."
He said, incredibly, the government had to ensure there was not a tension "between dealing with the health issues and dealing with the economic issues".
That ­remark is nothing but nonsense. Albanese is playing a double game — politics dictated he must vote for the government's bills this week and politics now dictates he must signal his fundamental differences with Morrison's strategy.
Standing next to Albanese, SDA national secretary Gerard Dwyer called on the government to provide a ­direct wage subsidy, saying business and unions wanted it, which is similar to British government actions. Morrison and Josh Frydenberg have rejected this, emphasising that Treasury ­advised against it.
Albanese's comments were riddled with contradictions. He ­attacked Morrison, saying he must follow advice when the government's entire response to the crisis has been based upon the medical advice, Treasury ­advice and national cabinet deliber­ations. If the government has blundered, it is because it followed medical advice, not ignored it.
On the economy, ­Albanese said Morrison needed to take advice in terms of shutdowns as well as providing income support.
From whom should Morrison seek advice? It seems to be Boris Johnson.