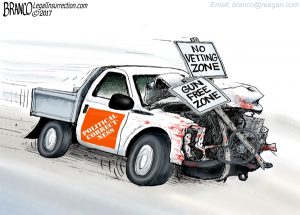 14.02.20
Listening to the ABC news on Classic FM one would think that channel 7 news is missing so much, yet the reverse is true. Every news on ABC will certainly have an attack on Donald Trump and a negative report on our Government. Yet I've heard no mention of the story below and it is really a big one. Does not matter that it happened in the US, it seems to be what is happening everywhere. If the right does something it's massive news, if the left do exactly the same it's "move on folk, nothing happening here". Readers will be just as annoyed at the lack of press on this incident as Guy Benson is, lets hope we don't see the same happening here.
In case you missed it over the weekend, a group of Republicans in Jacksonville, Florida were targeted with a dangerous and violent assault on Saturday afternoon, as the driver of a van appeared to deliberately accelerate and plow into their voter registration station in a Walmart parking lot. Thankfully, there were no fatalities or major injuries, but it could have been very bad. Here's a local news report on the attack, as well as the Duval County GOP's social media post about the harrowing incident:
Another local report included interviews with victims, and brief footage of the van. As Beth covered yesterday, an arrest has been made: Gregory William Loel Timm, a 27-year-old who works in the theater tech field. The investigation is still underway, and authorities have said they're not yet able to confirm that the vehicular assault was politically-motivated. We should wait for additional information, but the circumstantial evidence is strong. The attack was directed at an explicitly partisan political target, including a red tent covered in Trump signs. Based on witness accounts, the driver seemed to know exactly what he was doing, and conveyed his anger at the GOP volunteers beyond attempting to mow them down:
According to booking documents, Timm has resided in the Jacksonville area for around two years…[he] allegedly drove his van into the tent belonging to the Republican Party of Duval County while volunteers were registering people to vote at the Walmart in Sandalwood. After running over chairs and tables, witnesses told police that Timm got out of the van, took a video recording, made obscene gestures and left.
He rammed is van into the voter registration setup, then exited his vehicle to take a video recording of the chaos, and gave the Republicans the middle finger before screeching away. What happened here doesn't seem like a great mystery. Beth's post noted the reactions from a number of top Republicans, including the president and both Florida Senators. The local Democratic party also condemned the incident, which has garnered a little bit of national press — but the overall coverage has felt relatively muted. Others have noticed this, too:
It's undeniable. If a Trump supporter had perpetrated this exact same act against Democrats, we'd be in the throes of a national conversation and civility emergency. Charlottesville would be invoked. I don't need to tell you whose rhetoric would be blamed. I don't need to tell you which party would be given stern lectures about their tone. My position on such things has been very consistent; blame-storming to pin violent acts on your political opponents is a cynical silencing technique that represents a terrible and demagogic form of guilt by association. But the rules, and how these things are treated, are — shall we say — notably inconsistent. We are barely seeing this frightening episode covered at all, let alone top Democrats being hounded about whether their acerbic criticisms of President Trump may have inspired someone who lash out violently.
For instance, did a candidate accusing all Trump supporters of being at least racism enablers contribute to this? Again, to be clear, I do not believe that's a fair accusation or question. But it's precisely what we'd be seeing if the ideological roles were reversed. I'd like to remind you of how quickly the national press moved on from an attempted mass-assassination of Republican Congressmen and Senators by a deranged leftist in the not-too-distant past:
One of the victims, Rep. Steve Scalise, had been smeared by one national media figure and told his wound was "self-inflicted" by a nightly news anchor while he was still in the hospital fighting for his life. Republicans had been scolded for not changing their views on the Second Amendment in response to being attacked, and national media had either moved on from the story or moved on to scolding Republicans for their reaction to it. Rep. Mo Brooks faced the question about his Second Amendment views just minutes after someone literally tried to murder him. Can we take a moment to think about how utterly crass this is? Imagine an abortion bomber blowing up a Planned Parenthood grand opening in Washington DC, injuring members of Congress in attendance. Then imagine most national news coverage including this question for their colleagues who escaped maiming: "Shouldn't you probably consider changing your views on abortion? Maybe pass some common-sense limits on it?"
National media covered the incident voraciously for several hours, but within a day, most had moved on to another leak in the Russia story. Less than 48 hours after a multiple assassination attempt on members of Congress, there were no media vans or cameras at the Alexandria baseball field where it occurred. Just for perspective, when Republican staffer Elizabeth Lauten committed the offense of writing something critical of President Obama's daughters on her private Facebook page, news cameras were camped on her parents' lawn staking her out for the better part of a week.
Will any media figures ask whether the van-dodging volunteers may have done, or believed, something that brought on the attack? Part of the lowkey coverage in Florida stems from the fact that nobody died, a fact for which we should all be thankful. Serious injuries or deaths would vault this story into a brighter spotlight. But part of it is that the victims were the wrong sort of people, and that the (apparently) politically-charged attack cuts against the prevailing Narrative. I wish this were a preposterous exaggeration; at worst, it's slightly embellished. You know it, and I know it.
MORE
A report on the incident is now available and shows the attacker was politically motivated, wanted to "take a stand" and proudly showed officers videos just before running the tent over with his vehicle.
"Upon arrival I made contact with the victims who were volunteering at a Republican tent in the parking lot located near the Petco. They stated that while they were working the listed vehicle began slowly driving towards them. Victim 1 advised that she had been walking up to the driver's side to talk to the suspect. Victim 2 was standing on the passenger side of the vehicle. They both stated that the vehicle then accelerated towards them and the tent. Both victims had to move out of the way quickly in order to prevent themselves form being struck by the vehicle. The suspect continued to drive and snowed over several chairs, tables and a tent. The suspect then got out of the vehicle, took out his phone, 'flipped them off' and drove away," the report, written by an officer, states.
"The suspect [REDACTED] because 'someone had to take a stand.' He stated that he went to the Walmart at 11900 Atlantic Blvd. to get some food and notice the tent set up in the parking lot. He advised that after he got his food and pack of cigarettes he went near the ten and parked. He willingly showed a video to us on his phone that was him talking prior to driving into the tent. He was a few aisles over in the parking lot. The suspect then showed another video to us of him driving towards the tent with the victims standing in front of the tent," the report continues (bolding is for emphasis).
"The video cuts out prior to him actually striking the tent. He stated that [REDACTED] although the video showed people standing in front of the tent, so he could go run everything over. The suspect was upset that the video ended before 'the good part' as he described it. The suspect also advised that he does not like President Trump and that is part of [REDACTED]. He also advised the other reason was because "it's like someone shitting on your grave," it says.
Despite this admission from Grimm that he engaged in an act of terrorism against political opponents, the story is getting little attention.