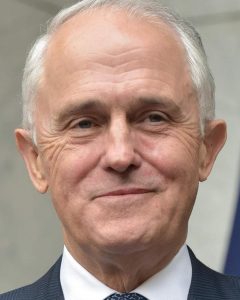 24.11.21.  
No doubt there is big trouble within the Coalition. If you can find a quiet place, peals of laughter can be heard coming from the direction of Sydney—Potts Point to be precise—it's Malcolm Turnbull! His fervent wish to destroy the Liberal Party and Scott Morrison along with it just might be the best ever Christmas present Turnbull could hope for.
Scott Morrison has been forced to lay down the law to his partyroom, warning that disunity and division will cost them the election. Labor would "sneak" into office if they didn't maintain discipline, the Prime Minister told them. Disunity was political death.
Source: Simon Benson, NCA
Scott Morrison lays down the law to reclaim unified partyroom
The irony that Morrison's intervention was prompted by an outlier issue such as state government-imposed vaccine mandates rather than climate change was not lost on some MPs.
A key feature of Morrison's leadership of the Liberal Party has been his ability to maintain a unified partyroom. And despite appearances this week — the partyroom can often get feral at the end of a year — it largely remains that way.
Morrison would not have felt the need to raise this issue at all if not for the corrosive optics of internal conflict with the election drawing closer.
The threat of legislative obstruction will likely prove theatrical rather than consequential once Morrison can convince those MPs threatening to make mischief that there is little the federal government can do about it.
And there is little danger of internal structural decay. It is not as if the factions are at war.
However, the slim majority the Coalition has in the house means any individual MP or senator can cause trouble if they choose. In this case, it is small but vocal group that feels threatened by Pauline Hanson, Clive Palmer and Campbell Newman.
And it is not without some justification, considering the Coalition has significant ground to make up with disaffected voters who have parked themselves in the "others" tent.
With Morrison having delivered the moderates a policy on climate change they can live with, he faces intensifying demands from the conservatives.
The religious freedoms bill was the red meat they have been demanding in return.
Morrison's decision to take ownership of the religious freedom bill, by introducing it on Wednesday, sends a strong message both to his partyroom and to the conservative base.
He will be banking on the fact that it would be equally ironic for a cabal of conservative MPs to get in the way of a bill that is arguably more totemic for their constituents than the one they are claiming would justify its obstruction.
By stamping his authority on the proposed legislation, Morrison is also looking for a symbol he can use to reconnect with his "quiet Australians".