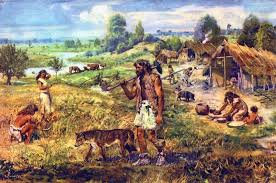 02.07.19.  
In the past two decades a succession of experts and primarily non experts have been extending the time that the Australian Aboriginal has been living here. The following article by Bernard Lane in
The Weekend Australian
offers a mixture of "expert" findings. Not included, however, are findings by Norman Tindale and Joseph Birdsell which you can read extensively
here
.
University science lecturers have been warned off making the familiar statement in class that "Aboriginal people have been in Australia for 40,000 years" … many ­indigenous Australians see this as "inappropriate", according to the University of NSW language ­advice for staff. The document suggests it is "more appropriate" to say Aborigines have been here "since the beginning of the Dreaming/s" ­because this "reflects the beliefs of many indigenous Australians that they have always been in Australia, from the beginning of time, and came from the land".
Source: News Corp
How long have Aborigines lived here? Don't ask, it may upset someone 
Bernard Lane uncovers the latest example of academic dopiness, The Weekend Australian, Saturday:
Guardian Australia, May 19, 2017:
Australia's earliest known site of human occupation … has been discovered in a remote cave in Western Australia, pushing back the start date of indigenous occupation to more than 50,000 years ago.
Academics Alan Cooper, Alan Williams and Nigel Spooner, The Conversation, August 16 last year:
Many Aboriginal Australians would say with conviction that they have always been here. Their ancestors and traditional learnings tell them of this history, and their precise place within it. Our review of the scientific evidence … suggests … their ancestors arrived shortly after 50,000 years ago — effectively forever, given that modern human populations only moved out of Africa 50,000-55,000 years ago … Recent studies suggest the last voyage, potentially between Timor/Roti and the northern Kimberley coast, would have involved advanced planning skills, four to seven days paddling on a raft, and a total group of more than 100 to 400 people.
Any advance? Hans Villarica, The Atlantic, September 22, 2011:
The first genome analysis of an Aborigine reveals that these early Australians took part in the first human migration out of Africa. They were the first to arrive in Asia some 70,000 years ago, roaming the area at least 24,000 years before the ancestors of present-day Europeans and Asians.
Nicholas St Fleur, The New York Times, July 19, 2017:
The timing of the first arrival of humans in Australia has been studied and debated for decades. Now, researchers have found evidence that suggests the ancestors of Aboriginal Australians landed … at least 65,000 years ago. The finding … pushes back the timing of when people first came to the continent by about 5000 to 18,000 years. It also suggests that humans coexisted with … giant wombats and wallabies long before the megafauna went extinct.
Guardian Australia March 11:
Extensive archaeological research in southern Victoria has again raised the prospect that people have lived in Australia for 120,000 years — twice as long as the broadly accepted period of human continental habitation. The research … has been presented to the Royal Society of Victoria by a group of academics including Jim Bowler, the eminent geologist who in 1969 and 1974 discovered the bones of Mungo Lady and Mungo Man, the oldest human remains found in Australia. Mungo Man … lived some 42,000 years ago.
The Washington Post in a story shared with The Sydney Morning Herald, September 22, 1996:
The team from the Australian Museum and University of Wollongong … found thousands of dot-like indentations engraved on a group of monoliths that … suggest Australia was inhabited by humans up to 176,000 years ago.