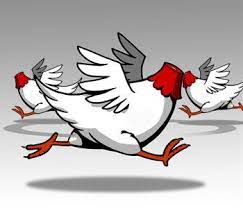 21.07.21.  
Chooks with their heads cut off running in all directions adequately describes government of today in this wretched pandemic. As each day dawns with yet more lockdowns and revised incarceration rules that sends the mind reeling one thing is seen as reliable—CONFUSION! What would the fraud Faucci say?
NOTE
: this AM—Australia wide 142 Covid cases in hospitals. 29 in ICU. 11 on ventilators. Of the 29 in hospitals
24
were unvaccinated! Hmm.
The Pfizer vaccine may be less effective in older people, Israeli officials have warned, as an increasing number of double vaccinated Israelis test positive to the coronavirus. A monitoring team at the Hebrew University in Jerusalem reported that about 90 per cent of new confirmed cases in the over-fifties group were people who had been fully vaccinated, the London Times reports. "It seems there's a reduced efficiency of the vaccine, at least for part of the population," the team said. They said, however, that the research needed more analysis before they could reach any definitive conclusion about its efficacy.
Source: Staff Reporters, News Corp
Coronavirus: Pfizer less effective in over-50s and against Delta find Israeli researchers
The warning comes as the country fights a fourth wave that has been driven by the highly infectious delta variant, despite more than 60 per cent of the population being vaccinated.
Israeli officials have also advised that the vaccine is "significantly less" effective against the delta variant of the coronavirus.
"We do not know exactly to what degree the vaccine helps, but it is significantly less," said Israeli Prime Minister Naftali Bennett.
Israel's Health Ministry warned on Monday that the vaccine's effectiveness against delta could be even lower than the readjusted numbers it published two weeks ago.
Earlier this month, the ministry lowered its projection of 95.3 per cent effectiveness across all coronavirus variants, to admit the vaccine provided just 64 per cent protection against delta. It said the vaccine was 93 per cent effective in preventing severe disease and hospitalisation, compared with the 97 per cent reported in the medical journal The Lancet in May.
However Haaretz reports that figures supplied this week by The Gertner Institute, which studies epidemiology and health policy, suggest the real figure was significantly lower.
Researchers were still working on their analysis but a person present at the meeting where the figures were presented told Haaretz if they proved accurate, there was real cause for concern.
The newspaper reported that the Health Ministry feared the vaccine's effectiveness was diminished not only because delta was better than other variants at breaking through vaccines' immune protection but because its effectiveness wanes in the time between the two jabs.
Last week, Australian Medical Association president Omar Khorshid warned there was "no medical evidence" that vaccine boosters worked.
Despite the rise in cases in Israel, the number of serious cases in hospital remains relatively low.