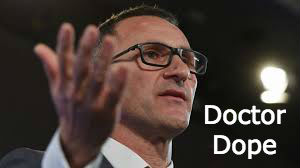 Waahoo! The Greens want to legalise dope
Now we know what Di Natale does all day—and night! Hey man, that's good sh*t!
The Greens will become the first party with seats in Parliament to call for full cannabis legalisation in Australia, despite criticism from the country's top medical bodies. Greens leader Richard Di Natale said the "war on drugs has failed" and called for the establishment of an Australian Cannabis Agency that would be given a monopoly over the wholesale supply of the drug to shops, while collecting millions of dollars in a tobacco-style tax from consumers.
At the foot of this article is video on how to conduct your life under a Green government, especially when driving and dealing with authorities. Please do not eat or drink while viewing.
Source: Fairfax
Greens want to legalise cannabis for all adults
"Governments around the world are realising that prohibition of cannabis causes more harm than it prevents," the former GP who worked in drug and alcohol addiction said.
"It's time Australia joined them and legalised cannabis for adult use."
Staff at the shops selling cannabis would be forced to undergo responsible service of drugs training and varieties of marijuana would come in plain packaging detailing strains and health warnings.
The policy, which appears to be modelled on Uruguay's state-controlled cannabis program rather than the market-driven platforms of the US, would put Australia in line with nine US states, Canada and Spain in legalising marijuana for all adults.
Colorado earned more than $260 million in tax revenue in 2016 after it sold more than $1.7 billion worth of marijuana, according to the Colorado Department of Revenue.
Under the Greens policy millions of dollars in a tobacco-style tax will be collected from consumers.
A costing by the Parliamentary Budget Office for independent senator David Leyonhjelm found the budget would be boosted by $259 million over the 2015-16 forward estimates if Australia legalised cannabis, due to a reduction in law enforcement costs and an increase in GST takings.
Neither the Coalition nor Labor have ever considered adopting such a proposal – while supporting medicinal cannabis – and the move is a significant escalation of the Greens drug policy, which previously focused on harm minimisation and getting treatments on Medicare.
"The use of any drug or substance has the potential to be of harm to the individual or to the community," its November 2017 policy stated as its number one principle.
Influential medical bodies including the Australian Medical Association and Alcohol and Drug Foundation said they were concerned about the policy, which goes much further than the legalisation of marijuana for medicinal purposes. The Royal Australasian College of Physicians has also long lobbied against such a move.
The Australian government has plans to become the world's biggest supplier of medical cannabis. ABC political reporter, Stephen Dziedzic joins News Breakfast from Parliament House.
The vice president of the Australian Medical Association Tony Bartone said the AMA did not support the personal use of cannabis and had "significant reservations" about the proposal to allow people aged over 18 to use the drug.
"There is the importance of the developing brain, the Colorado model is 21-years-old," he said.
"We have considerable concerns about the risk for the young brain and the possibility of bringing on psychosis, especially in the younger age group."
But he said the AMA believed that criminal penalties should not be brought against users, echoing sections of the Greens policy.
"The courts are clogged with people [on drugs charges]," he said. "We see recreational use of cannabis as a health issue not a criminal issue."
More than 75,000 people are arrested each year for cannabis related offences, making up the largest proportion of illicit drug crimes according to the Australian Criminal Intelligence Commission.
Alcohol and Drug Foundation policy manager Geoff Munro said "the risk was that it would lead to increased use and increased harm, particularly people who are most vulnerable to negative effects".
"But there may be some positive effect," he said. "It could reduce stigma around cannabis use and make it easier for people who are dependent to seek treatment."
President of the Australian Drug Law Reform Foundation Alex Wodak said banning cannabis hadn't stopped people using it, had distracted police and helped make some criminals rich.
"Regulating cannabis will give government more control and increase government revenue, which can be used to fund drug prevention and treatment," Dr Wodak said.
The Australian Federal Police declined to comment on the law-enforcement challenges of the proposal.