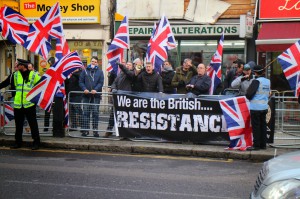 Where next for the brotherhood?
Warnings have been issued for years. Trends have been established. Changes in society have been made. But, is anyone of consequence listening? Under the latitude of democracy and religious freedom, apparently not!
Soon to be examined will be questions. How did this happen? Who let this happen? What can we do about it? The inevitable answer: It's all too damned late! It's gone viral!
Muslim Brotherhood sets up shop in London

Egypt's largest opposition movement has placed its media headquarters in one of London's suburbs.
The Muslim Brotherhood, the largest and oldest religious organisation in Egypt, has survived multiple periods of repression. But according to recent reports, it has now regrouped at an unlikely location: An office above the Flame Kebab takeaway shop on Cricklewood Broadway, a high street in an unfashionable north-west London suburb.

This is the headquarters of World Media Services, a company that publishes IkhwaanPress.com (Brotherhood Press) – an Arabic language website sympathetic to the Brotherhood.

Mohamed Soudan is one of the senior members of the Brotherhood that fled to Britain after its political wing, the Freedom and Justice Party, was ousted in July. "There is no stability now in Egypt," says Soudan, who served as foreign relations secretary under deposed president Mohamed Morsi. "The authorities have accused all members of the Muslim Brotherhood – and anyone else that opposes the government."

The British government is not, as it has said, up-to-date on the Brotherhood in the aftermath of the Arab uprisings. They want to understand.– Fawaz Gerges, professor of international relations at the London School of Economics

Egypt's military-led interim government is engaged in a brutal crackdown on dissent. The Brotherhood has been hit particularly hard, with up to 20,000 supporters currently imprisoned and 1,000 killed. Last month, a court sentenced 529 Brotherhood supporters to death in an unprecedented mass trial. In December, the Egyptian government designated the Brotherhood a terrorist organization; Saudi Arabia and the United Arab Emirates recently followed suit.

Against this backdrop, it should be little surprise that some members of the movement, like Soudan, have sought refuge abroad. But the activities of the group have caused concern in Britain. "The prime minister has commissioned an internal government review into the philosophy and activities of the Muslim Brotherhood and the government's policy towards the organisation," said Downing Street in a statement this week. British prime minister David Cameron said the inquiry would aim to discover any "path of extremism and violent extremism, what its connections are with other groups, what its presence is here in the United Kingdom" and to "fully understand the true nature of the organisation".

When Al Jazeera contacted the Muslim Brotherhood in London, they said they are doing "the best we can to support the people in Egypt, but London is not the centre of activity". The proprietor of World Media Services, 67-year-old British Egyptian Mohamed Ghanem, says that he and his staff are affiliated with the Muslim Brotherhood but are by no means the central command.

"The Brotherhood has a long history in Britain – decades not years," says Fawaz Gerges, professor of international relations at the London School of Economics. "Waves of Islamist dissidents since the 1960s have found in London a refuge, a place to congregate and survive." Groups such as the Muslim Association of Britain, prominent in the campaign against the Iraq War, and the Cordoba Foundation, a think tank on Muslim relations with the West, are acknowledged to have close ties to the Brotherhood.

Of course, such connections are not illegal. Affiliates of the movement are currently in government in Tunisia, Morocco and, until recently, Egypt. The Muslim Brotherhood, founded in Egypt in 1928, is one of the most powerful political entities in the Middle East. As a  pan-Arab movement, it combines political activism with charity work and was the only opposition force that flourished under respective dictatorships, emerging as a natural leader after the Arab Spring revolutions. Despite violent beginnings, it renounced the use of force in the 1960s.

Allegations of violence

But it has been suggested by British officials that individuals associated with the organisation may be involved with violence. The Egyptian government has alleged that it is behind a string of attacks in the country. The review will include an investigation by MI6, the foreign intelligence service, about these allegations, as well as an assessment by MI5, the domestic intelligence agency, of the number of senior leaders based in the UK following the coup.

"Since July, two members have come to the UK, and I am one of them," says Soudan. "This is not a big conspiracy." Experts say that there are currently no figures available on the number of post-coup arrivals, so this is impossible to verify.

When it comes to any hint of violence, the UK is taking no chances. "The British don't want to make the same mistakes they did in the 1990s, when Britain was accused of becoming a theatre for militant Islamists," says Gerges. "The British government is not, as it has said, up-to-date on the Brotherhood in the aftermath of the Arab uprisings. They want to understand."

A UK government spokesperson said it was "possible, but unlikely" that Britain would follow its allies in Saudi Arabia and the UAE in classifying the Muslim Brotherhood as a terrorist organisation.

Threat to national security?

There must have been pressure from the Egyptians or the Saudis about the presence of members of the Brotherhood in London.– Maha Azzam, Chatham House

Yet many analysts have balked at the inquiry's suggestion that the group poses a threat to British national security. "This is a communitarian, religious, conservative movement that focuses on politics and social mobilisation as the basic tools of its actions," says Gerges. "Even if some individual members of the Brotherhood have engaged in violent activities, I don't think this reflects the strategy or worldview of the organisation."

"It seems that the general climate in the Middle East – where the Muslim Brotherhood is being repressed – has now spilled over into trying to affect attitudes among western governments," says Dr Maha Azzam, associate fellow for the Middle East and North Africa programme at Chatham House. "There must have been pressure from the Egyptians or the Saudis about the presence of members of the Brotherhood in London."

Much of the current hostility towards the Brotherhood in the Middle East is down to the polarised politics of the region. An organisation called Ansar Beit al-Maqdis, which has denounced Morsi as an apostate, claimed responsibility for some of the violent attacks that the Egyptian government has blamed on the Brotherhood. In its official statement, the Muslim Brotherhood expressed concern that Britain's Saudi ambassador, Sir John Jenkins, was taking charge of the inquiry, urging Britain "not to bend to pressure from foreign governments". Downing Street stressed that Jenkins was selected for his expertise.

Given that the current anti-Brotherhood climate in the Middle East is the result of these deeply polarised regional politics, Britain's decision to hold an inquiry is itself sensitive. "Western democracies deal with governments like Egypt and Saudi Arabia but ultimately know that they are undemocratic, with an agenda that is ultimately not only intolerant but repressive of different political views," says Azzam. "Western democracies must not fall prey to pressure from non-democratic countries. This is a review, but one worries that it could be the first step towards measures that are not fair for a group that has upheld the laws of Britain."

The Foreign and Commonwealth Office has previously warned against proscribing the Brotherhood on the basis that restricting a non-violent group risks enforcing the argument of armed religious fighters: that victory will be attained by bullets, not the ballot box.

The Brotherhood has said it will co-operate fully with the investigation. "We understand that the UK is a democratic country, and we respect their law, but this will come to nothing because we oppose violence," says Soudan. "We have nothing to hide."