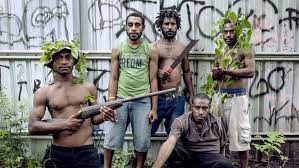 03.05.21.  
Australia's nearest neighbour Papua New Guinea is experiencing a surge in violent crime as it struggles under the weight of an economic and health crisis.
New video obtained by The Australian shows the murder of a man, seen running from machete-wielding men in Koki, Port Moresby, about 4.30am on Friday. PNG security providers said the Milne Bay Province capital of Alotau was also under siege from gangs, known as "raskols", who burned down police houses. "Reports received that the thugs have the police outnumbered and have more fire power than police at this stage and are standing off police," one security company said.
"All shops in Alotau are closed and there is a call for a state of emergency at this stage.
"Source: Ben Packham, News Corp.
Violence flares in crisis-hit PNG
The East New Britain capital of Rabaul was also facing a surge in gang-related violence, according to a security alert.
"Rabaul is kicking off again, might want to let your people in ENB know to avoid it. Two stabbed 5mins ago and about 100 boys coming thru the main St looking for revenge," the alert said.
PNG's hospitals are overwhelmed by COVID cases, while the country's economy is facing unprecedented challenges, amid rampant corruption and stalled resources projects.