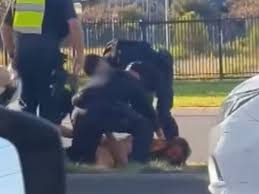 16.09.20.  
As the disgusting video of a Victorian Police officer stomping on the head of a mentally ill man goes viral around the world even the Premier Andrews in his depth of denial could not or would not stop the suspension of the officer involved. Andrews has shown his narcissistic lust for the cameras and this time, along with other exposed savage applications of his draconian laws, he has it in spades. "The Dictator Dan from DownUnder!" A fitting epithet.
A senior constable from an elite Victoria Police unit has been suspended after footage emerged of officers striking a mentally ill man with a car before pinning him to the ground and stomping on his head. And Victoria's anti-corruption watchdog has confirmed it will investigate police conduct in relation to the arrest on Sunday of mentally ill man Timothy Atkins.
Source: Remy Varga and Rachel Baxendale, News Corp
Victoria Police officer suspended after arrest of mentally ill man Timothy Atkins; corruption watchdog to investigate
The confirmation follows the suspension of the officer from Victoria Police's Critical Incident Response Team after footage emerged of police striking Mr Atkins, 32, with their car, before pinning him to the ground and stomping on his head, leaving him in a condition which resulted in him being placed in an induced coma.
On Tuesday afternoon, the Independent Broad-based Anti-Corruption Commission issued a statement.
"IBAC, Victoria's independent police oversight agency, will independently investigate police conduct in regard to an incident involving the arrest of a man in Epping on Sunday, 13 September," the statement read.
IBAC Commissioner Robert Redlich QC said: "The community is rightfully concerned if someone is injured during an interaction with police."
"Given the potentially serious nature of this incident, IBAC has determined it is in the public interest to independently investigate this matter," Mr Redlich said.
The statement said IBAC "performs a critical role in independently oversighting Victoria Police to ensure police officers' conduct is lawful, and consistent with required procedures and ethical standards."
"Our independent oversight of Victoria Police continues within the parameters of public health safety precautions related to COVID-19," the statement said.
"Anyone with information related to this investigation, or who would like to make a complaint about police misconduct can contact IBAC at www.ibac.vic.gov.au."
'Police brutality'
Earlier, Glenn Atkins said the arrest of his son Timothy was an example of "police brutality" on Monday, telling reporters the 32-year-old had been placed in an induced coma following the violent incident near in Epping on Sunday on Sunday afternoon.
A Victoria Police spokeswoman said on Tuesday one of the officers involved had been suspended as she urged witnesses to come forward with information and dashcam or mobile footage.
"A Senior Constable from the Critical Incident Response Team was last night suspended following his involvement in a protracted incident which commenced at the Northern Hospital at Epping on Sunday 13 September," she said.
"Professional Standards Command continue to investigate the matter and are currently assessing all available information."
Timothy Atkins, a father-of-three, was being treated for bipolar disorder at Northern Hospital in the north Melbourne suburb of Epping.
In vision of the arrest obtained by Channel 7, Victoria Police drive behind an on foot Mr Atkins before striking him with the vehicle.
At least four officers surround Mr Atkins before they hold him down and begin kicking him, with one officer stomping on his head.
A Victoria Police spokeswoman said pepper spray was deployed with officers called to the scene just after 4pm on Sunday following reports of a man behaving erratically.
Glenn Atkins described his son as a "gentle giant" who he said "would not hurt a fly".
"Timothy is a gentle giant, he has never been in trouble with the law," he said.
"I feel sick to my guts, I am filled with anger seeing that video. I couldn't sleep last night, I am full of anger and sadness."
The suspension comes after a man was shot by Victoria Police in Lilydale in Melbourne's far northeast on Tuesday at around 8.30am.
A Victoria Police spokeswoman said the man was receiving medical attention at the scene after he received an injury to the upper body.
"Police and emergency services are currently at an incident in Lilydale," she said.
"It is believed police were called to a man armed with an edged weapon on Hutchinson Street about 8.30am.
"A police firearm was discharged and the man received an injury to the upper body.
He is receiving medical treatment at the scene."
n air ambulance has been dispatched to the scene while the man, in a serious condition, is being treated for upper body injuries, an Ambulance Victoria Spokeswoman said.
The incident is under investigation, over which Professional Standards Commands have oversight.