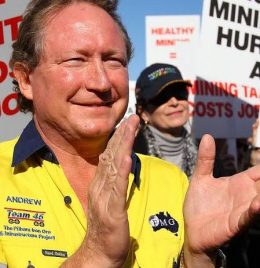 13.10.21.  
Multi billionaire Twiggy Forrest has huge ties with China as much of his great wealth comes from China. Last year Forest did a large suck-up to Beijing. On 6PR  Forrest suggested that the coronavirus may not have come from China. China has even blamed the US, and Forrest said it could have come from Australia or Britain. It shouldn't surprise that Forrest has to protect his income from China as he would understand how the bullies in Beijing retaliate against those that don't grovel at the CCP's feet.
Establishing a nuclear industry in order to reach a net-zero target is not "necessary", according to Fortescue Future Industries' Boss Andrew Forrest. "I just don't think it's necessary when you've looked at all the renewable energy that Australia and the world has," Mr Forrest told Sky News Australia.
"We have so many thousands of times more energy which is fully renewable, which uranium isn't, than this world, the Anthropocene will ever need.
Nuclear not 'necessary' to reach net-zero in Australia: Andrew Forrest
Mr Forrest said the problem with uranium as a fuel, or the nuclear industry, is "that you're not going to avoid the process flowchart which brings the enrichment up toward weapons-grade.
"And now, that'll lead to a clean world, but I think a pretty unsafe world.
"I don't want to leave that to our kids when we've got such a phenomenal option which is completely renewable, green, zero pollution energy and products which will leave the world a safe place and pollution-free environment."
Source: Sky News