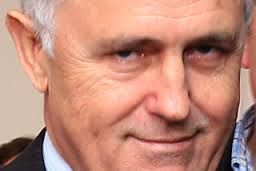 16.04.19. Perhaps the Turnbull family gentlemen should give some consideration to their families. The patriarch's propensity for poisonous vengeance is likely to brand the Turnbulls as persona non gratis in much of Australia—particularly in the snobbish Point piper coffee shops—if not Kmart, and certainly so at Trump's house. The Waffler's personal wealth may not overrule popular disdain for practitioners of bastardry and thus civility is withdrawn to be replaced with derision. Very thick skin will be required. Bring back the stocks, please!
Coalition MPs are playing down a threat posed by Malcolm Turnbull's son, Alex, to build momentum for a permanent political movement in which independent candidates would continue to challenge sitting Liberal MPs after the election. The former prime minister's son is supporting the independent campaigns of Zali Steggall in Warringah, Julia Banks in Flinders, Oliver Yates in Kooyong, Helen Haines in Indi and Kerryn Phelps in the seat of Wentworth.
Source: Joe Kelly, News Corp
Coalition MPs dismiss Alex Turnbull's independents threat
Dr Phelps won the seat of Wentworth from the Liberal Party after it was vacated by Mr Turnbull when he was ousted in last ­August's leadership coup that ­elevated Scott Morrison into the nation's top job.
Alex Turnbull, a fund manager who lives in Singapore, did not deny yesterday that he was providing assistance to multiple independent campaigns after Ms Banks — who is seeking to unseat Health Minister Greg Hunt in Flinders — confirmedhe had put her in ­contact with someone who provided $8000 to help set up her website.
Taking to Twitter yesterday afternoon, Alex Turnbull also threw his support behind Anthony Pesec — an independent Senate candidate for the ACT and a businessman who promotes himself as representing the "sensible centre".
He also gave an interview to Nine newspapers saying it was necessary to ensure that "lazy members of the incumbent parties" faced challenges from their constituents and that he would continue to build momentum after the election for a movement to elect more independent MPs to parliament.
"Members of the LNP can only laze in the hot tub of Murdoch-­endorsed far-right craziness while ignoring their constituents so long as their seats are not at risk," he tweeted. "Putting their seats in play tends to sober them up".
Dr Phelps's spokesman yesterday said they were happy to receive any support from Alex Turnbull and "anyone who shares our values and objectives such as real action on climate change and supporting a shift towards renewables and a clean energy future".
But Liberal MPs yesterday downplayed the threat, with one likening Alex Turnbull to Fredo Corleone in the classic film The Godfather.
"Nobody is really worried about Alex Turnbull being the grandmaster of a new independent political movement and smashing NewsCorp."
Former deputy prime minister Barnaby Joyce took aim at Alex Turnbull, saying that a strategy to have more independents elected to parliament would "deliver complete and utter chaos".
"In this nirvana where we have a parliament full of independents — because surely if it's good for one seat it must be good for all seats — who is going to be the prime minister? Who is going to be the treasurer?" he said.
"I just think it shows a complete lack of understanding of how the Australian political system works.''
The push-back came after the Liberal Party accused four of the high-profile independent candidates — Ms Banks, Ms Steggall, Mr Yates and Dr Phelps — of functioning "as a political party" following revelations they were operating under identical funding structures, potentially in breach of donation laws.
The NSW and Victorian divis­ions of the party wrote to the Australian Electoral Commission asking it to investigate whether the creation of near-identical fundraising templates — established by a Sydney-based accountant — circumvented donation laws.