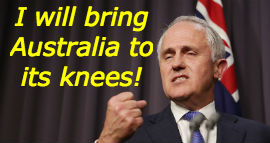 Turnbull's vow at work
If only the destructive Malcolm Turnbull had applied equal zeal to running the country in fruitful fashion as he does in spiteful revenge he would still be in the Lodge. Now his legendary 'faecal touch' is soiling all he touches from behind the scenes. You might have thought thought that with his considerable wealth he might have moved on and enjoyed life in a better way. But no, a spleen full of bitter bile courses all passages of his body eroding any goodness there might have been—a time will come… Is this 50 per cent quota a sensible contribution from the man or a poisoned arrow? We have just experienced the 'women' contribution to party mayhem—coincidence—Nah?
Malcolm Turnbull: "the Liberal Party does have a women's problem in the sense we do not have enough women in parliament." Malcolm Turnbull has conceded the Liberal Party "absolutely" has a "women problem" and suggested a 50 per cent quota on preselection panels in a bid to change the ­organisation's culture.
Source: News Corp
Liberals' women problem is real: Turnbull
In comments that will not help Scott Morrison just a month from the federal election being called, the former prime minister compared the attitude towards women in Australian politics to the corporate world in the 1980s, but said the answer was to get more women in the Liberal Party.
"Absolutely yes, the Liberal Party does have a women's problem in the sense we do not have enough women in parliament, and it is one that the party is acutely aware of," he told the University of Oxford's Blavatnik School of Government to mark International Women's Day.
"We are going to have to in the Liberal Party start to institutionalise, perhaps preselection panels must be 50-50 men and women. Now they may then choose to keep on preselecting men. Without actually taking away the autonomy of members, I think what we've got to do is make a much bigger effort for that. There's no question it's a problem. If I said it wasn't you wouldn't believe me ."
A growing number of Liberal MPs have been pushing for reforms to encourage more women to contest elections after the party's female representation in federal parliament went backwards. Former deputy leader Julie Bishop and Jobs Minister Kelly O'Dwyer will retire at the election, while Queensland MP Jane Prentice — who holds the safe Liberal seat of Ryan on 9 per cent — lost her preselection battle to a man.
Four lower house female Liberal MPs will recontest safe seats. Of the 52 sitting members running again just seven (14.8 per cent) are women. There are 90 Liberal candidates for the House of Representatives preselected so far, with 24 of them women.
Mr Turnbull, who has given several interviews while in Britain, said politics was "far too blokey" and acknowledged Labor's use of quotas could achieve systemic change. "The culture with respect to women and respect for women and attitudes to women in Australian politics is more like the corporate world in the 1980s, maybe a bit earlier," he said. "It is far too blokey, far far too blokey, so change takes a while but I certainly did everything I could to ­advance that."
Mr Morrison has repeatedly referred to the 19 women candidates who have been preselected for Liberal seats since he became Prime Minister in late August and has also appointed a record seven women to cabinet.
Bill Shorten said everybody knew the Liberal Party had a problem with women and Mr Turnbull simply "belled the cat yet again".
The Liberal Party federal executive adopted a 50 per cent target of women MPs by 2025 in 2016 under Mr Turnbull's prime ministership, but Industry Minister Karen Andrews has suggested 30 per cent would be more achievable.