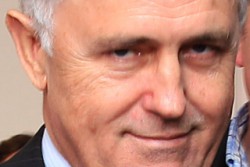 09.10.19.
Recall those famous words, "Lucy and I will be voting for same sex marriage!" And so it came to be as his handler jerked the Waffler's chain and together they chanted far and wide—cloying sermons from the hymn book of the Qantas queer extolling the virtues of homosexual union.
Using the deception of his republic thrust which failed, 'vote yes and we'll work out the details later' did work for SSM. Now the legal mess over religious freedom becomes just one more Turnbull legacy. Why has this liability not been expelled from the Liberal Party?
Attorney-General Christian Porter is facing a growing backlash against the gov­ernment's proposed religious freedom bills, as the business ­sector says the laws could increase conflict and disharmony in Aus­tralian workplaces and impose a regulatory burden on ­organisations. With the deadline for submissions on the draft bills closed, the Australian Industry Group and Australian Chamber of Commerce and Industry have made public their lists of concerns ahead of a parliamentary vote on a religious discrimination bill as early as this year.
Source: 
Rosie Lewis and Geoff Chambers, News Corp
Firms in religious freedom warning
Both peak industry groups fear the definition of "religious belief or activity" in the proposed bill is too broad and could be problematic for employers, resulting in "unnecessary conflict and controversy in workplaces".
In a rare unity ticket, the union movement also opposed the draft religious discrimination bill, with the ACTU's submission cautioning that it privileged the rights of religious organisations over workers' rights to be treated fairly and equally.
Union opposition will put pressure on Labor to vote down the laws in federal parliament.
AiGroup, which represents more than 60,000 small, medium and large businesses, said in its submission it could not support the bills in their current form.
"The bills have the potential to increase conflict in Australian workplaces," its submission states. "The bills need to be amended to ensure that they are not at odds with the maintenance of harmonious workplace relations and co-operative Australian workplaces.
"The concept of a 'religious belief' is not defined in the bills and is very broad and uncertain. Further, a person's religious beliefs can be much less tangible than a person's sex, age, race or disability that feature in federal anti-discrimination legis­­lation.
"The bill's restrictions on businesses, in seeking to protect religious and non-religious beliefs and activities, are unreasonable. Businesses need to be able to maintain appropriate standards of conduct in workplaces."
Representing more than 300,000 businesses, ACCI's submission said employers would have to rely on the High Court's definition of religion, which would prove challenging for businesses and legal advisers.
"For example, the High Court's definition of 'religion' ­appears to not capture an indigenous employee's activities in respect of indigenous spirituality, which has existed for thousands of years but could nonetheless capture another employee's activities in respect of an esoteric or emerging religion, the bona fides of which are yet to be established," its submission says.
The ACCI suggested an expansion of the definition to clarify what religious activities and beliefs were protected.
The business groups also lashed the so-called "Folau clause", which prevents companies with annual turnovers of at least $50m from sacking employees for sharing controversial religious views outside work hours unless they were able to prove the sacking was necessary to avoid undesirable financial hardship.
AiGroup said the section was "prima facie unreasonable" while ACCI was critical that the public service — whose agencies often compete with the private sector — was excluded.
"In cases such as Australia Post, where a government corporation is almost entirely operating in fully competitive markets for profit, it seems extremely difficult to ­establish a need for the public to have faith in the impartiality of Australia Post employees as a justifi­cation for why Australia Post should receive a market advantage over other private sector busi­nesses performing the exact same service," the ACCI submission states.
Its submission also called for federal, state and territory anti-discrimination laws to be "harmonised" to reduce the regulatory burden on business, drive greater efficiencies and improve productivity outcomes by minimising compliance costs for individuals and companies.
The ACTU's submission said there was "no need for these complex and confusing new laws … New federal protection against discrimination for workers and other individuals on the grounds of religion could be achieved by a simple amendment to an existing discrimination act.
"The RDB goes too far, allowing corporations to override the rights of others."