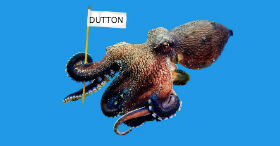 The Turnbull octopus at work
The tentacles are long but flawed by 'suckholes.'
The extreme hatred from our deposed politicos is something to behold. When Abbott rolled Turnbull for leadership, Malcolm's bitterness caused him to go as far away as London to talk and undermine Abbott with pure twaddle charming the London School of Economics—a Marxist stronghold. Turnbull plots and stabs PM Abbott in the night aided by his suckhole Lefties—becomes PM. Peter Dutton challenges the Waffler, the man born to be king—that stabbed Peter King for Wentworth. And now, from the other side of the world again, humiliated by his loss, intent on revenge, he pulls a stunt to hit Dutton. It's over Malcolm—for god's sake go away!
Malcolm Turnbull has been telling "colleagues", including incumbent PM Scott Morrison, that they should vote to refer Peter Dutton to the High Court to test his eligibility to sit in parliament.
Source: News Corp
Turnbull has been telling colleagues to refer Peter Dutton
Mr Turnbull is currently in New York with his wife Lucy after a messy leadership spill spearheaded by the Home Affairs Minister saw them both lose the top job to Mr Morrison.
A cloud has been over Mr Dutton's eligibility due to his his family's ­financial interests in two Brisbane childcare centres that received $5.6 million in taxpayer-funded rebates over the past eight years.
Under section 44(v) of the Constitution, a person who has a direct or indirect pecuniary interest in any agreement with the federal public service cannot be elected or sit in the House of Representatives.
Mr Dutton's interests in the childcare centres came to light after his first tilt at the leadership. Malcolm Turnbull asked Attorney-General Christian Porter to call on the Solicitor-­General Stephen Donaghue QC to investigate.
Dr Donaghue could not conclusively find Mr Dutton was eligible to sit in federal parliament.
Labor have indicated they would try to leverage a majority in the House of Representatives in order to refer Mr Dutton to the High Court.
Mr Turnbull said on Twitter early this morning that he had told Mr Morrison and "other colleagues" that Mr Dutton should be referred to clarify the issue of his eligibility after Fairfax reported that he had been texting Coalition MPs on the matter.
@TurnbullMalcolm

The point I have made to @ScottMorrisonMP and other colleagues is that given the uncertainty around Peter Dutton's eligibility, acknowledged by the Solicitor General, he should be referred to the High Court, as Barnaby was, to clarify the matter. 12:06 AM – Sep 13, 2018
Mr Dutton's links to the childcare centres are through a family trust that receives income from them, and through his wife Kir­i­l­ly's direct role as the owner of a company that runs the centres.