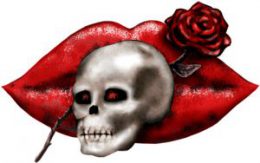 Turnbull campaigning for Dave Sharma?
The kiss of death!
That Malcolm Turnbull endorses Dave Sharma for Wentworth is first met with "fake news!" Brighette Ryan is The Australian's digital night editor and it was posted at 10:39pm last night. Only a damned good psychiatrist could give reason for this bizarre move by the waffler. What ever the reason, Dave Sharma should view his now supporter as a wicked snake in the grass and run a mile before he gets a further kiss of political death!
Malcolm Turnbull has finally campaigned for Dave Sharma, seven weeks after the crucial Wentworth by-election. A message of support accompanied by a photo was published om Twitter and Instagram, reading: "Great to be with @DaveSharma & the amazing @MrsDzTB at the Wentworth Christmas Party — good luck next year Dave!"
Source: News Corp
Malcolm Turnbull finally endorses Dave Sharma for Wentworth
Mr Turnbull was criticised for his failure to support Mr Sharma on the hustings in Wentworth but defended his absence, saying he was "retired".
Kerryn Phelps claimed victory in the crucial seat after the October 20 election but the pair will have a second showdown at the federal election after Mr Sharma was endorsed by the Liberals once again.
Mr Sharma's second tilt for Wentworth was announced on Saturday after the party's state executive endorsed him as the candidate on Friday night. The decision allows the former Australian ambassador to Israel to skip another preselection vote, only months after one in mid-September.
He later became the first Liberal candidate in 72 years to lose Wentworth when independent Kerryn Phelps triumphed by 1850 votes (1.22 per cent) in the October 20 vote.
Mr Sharma said he was under no illusions about the challenge he'd face at an expected May federal election, acknowledging the dissatisfaction from people who'd normally strongly support the party.
"I would say to those people: get involved, help rebuild the party, select the candidates you want to see in parliament, get involved in the policy debates," he told reporters on Saturday.
"Don't desert the party."
In the weeks since the by-election, Mr Sharma has been reported as a possible candidate for the Senate and former prime minister Tony Abbott's northern Sydney seat of Warringah.
But, having recently bought a family home in the area and enrolling his kids in school for 2019, he said he was committed to Wentworth.
He said the area was one the party must win to have any chance of remaining a strong political force – whether in government or not.