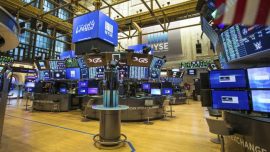 16.03.20.
While the US Democrats writhe in agony over the president's promised leap of faith the money markets came alive with approval.
An agreement on a massive US fiscal stimulus to shield the world's biggest economy from the worst effects of the coronavirus pandemic has boosted global equities, commodities and the Australian dollar, even as the COVID-19 crisis worsened. The Trump administration reached a preliminary deal on a $US2 trillion ($3 trillion) stimulus package — equivalent to 10 per cent of GDP — extending a rebound in risk assets that began on Tuesday after a damaging sell-off on Monday when House Democrats blocked the deal.
Source: David Rogers, News Corp
Massive US stimulus deal sparks surge in sharemarkets
Australia's S&P/ASX 200 share index rose 262 points or 5.5 per cent to 4998.1 points — its highest close in a week — up almost 14 per cent from a seven-year low of 4735.7 on Monday. The index is still down 30 per cent from a record high five weeks ago.
"It feels like we are at the end of the quant fund selling which should temporarily halt this death spiral the market has been in," said RBC Capital Markets head of equities Karen Joritsma.
But there was a "massive lack of conviction" on the part of institutional investors, with portfolios being moved around to avoid risk and "looking for potential blow-ups".
Major banks and BHP added about 10 per cent. Transurban rose 11 per cent, Aristocrat jumped 22 per cent, Qantas soared 26 per cent and Afterpay rocketed up by 34 per cent.
Ramsay Health Care fell 4 per cent after Prime Minister Scott Morrison banned elective surgery, while Cochlear shares were halted as the company sought $850bn in new equity from shareholders.
"So we have seen massive selling as the market dropped 39 per cent in just 24 days," said Bell Potter's head of institutional sales and trading, Richard Coppleson.
"In any other market that type of capitulation and record selling at the lows would indicate a short term at least, but right now with the most extraordinary measures anyone has lived through — with now whole cities locking down and not knowing for how long — these indicators are less useful."
The first back-to-back rise in Australian shares in six weeks came as a 9.4 per cent jump in the S&P 500 — its best since October 2008 — flowed through to Asia with an 8 per cent rise in the Nikkei 225, a 5.9 per cent rise in Korea's KOSPI, a 5.1 per cent rise in the Straits Times index, a 3.4 per cent rise in the Hang Seng and a 2.2 per cent rise in the Shanghai Composite.
The breakthrough on potentially game-changing US fiscal stimulus lessened safe-haven demand for the US dollar, lifting the Aussie 1.5 per cent to a one-week high of US60.46c, while West Texas crude rose 5.1 per cent to a three-day high of $US25.24 a barrel.
"Risk assets are enjoying a nice rebound as the market digests the Fed's broadening QE move into the corporate space while the prospect of a big US fiscal stimulus edges closer to fruition," said NAB's senior FX strategist Rodrigo Catril.
Still, JPMorgan senior economist Ben Jarman warned that Australia's economic growth would suffer a near double-digit plunge in the June quarter due to "significant activity restrictions" in some sectors, and "income/demand spillovers in others".
Unemployment will spike but the government's support package may influence participation so that measured unemployment is restrained, with JPMorgan forecasting an official jobless rate of 11 per cent versus 5.1 per cent last month.
Mr Jarman said the federal government's "fiscal impulse" was well-targeted, but the increase to date was "still not that large relative to the last decade's trend path in government debt, and considering the central bank's backstop".
As for the property market, downside risks were "not yet alarming" for Australian banks, but "risks to property prices, and to the banks from their home loans, are firmly on the downside", S&P Global Ratings warned.
"We expect that despite low interest rates, demand for housing should remain subdued in the short term due to the current travel restrictions, weak consumer sentiment and the wealth effect that comes with falling asset prices," S&P said.
"The combination of high household debt and house prices may expose Australian banks to a scenario of a sharp correction in property prices amid an economy weakened by the outbreak, and a more severe and prolonged economic downturn could precipitate such a scenario, which would trigger credit losses significantly above our current estimates, and consequently weaken the creditworthiness of the Australian banks."
Active COVID-19 cases in Australia could peak at around 9500 in mid to late April, according to a model devised by the US investment bank's Insurance analyst MW Kim.
Meanwhile, Macquarie offered clients a list of Australian shares that should lead a recovery.
"With Australian stocks already down over 30 per cent in just over a month, investors are increasingly asking what they should buy for the inevitable recovery from this coronavirus crisis," said Macquarie's Australian equity strategist Matthew Brooks.
"The scenario we gave the team was that Australia has a downturn in calendar 2020, but the impact of COVID-19 is limited to this calendar year (and) the fading COVID-19 headwinds plus fiscal/monetary stimulus then support a recovery in the economy in calendar 2021."
The list focused on higher-quality companies that are typically among the first to rebound when the market recovers, and included a number that could be considered global leaders and could therefore be attractive to both domestic and international investors.
Among such global leaders identified were Aristocrat, Amcor, Cochlear, Fortescue Metals, Goodman, REA Group and Transurban.
Others with overseas earnings included Harvey Norman, Northern Star and VN, NST and Pushpay.