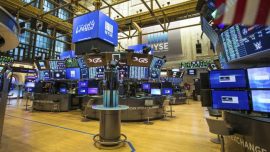 25.03.20.
Donald Trump has signalled he will soon ease social distancing rules to help rescue the US economy despite warnings from health experts that it could cause a catastrophic increase in coronavirus infections and deaths. In what looms as one of the most difficult trade-offs of his presidency, Mr Trump said the damage to Americans from a collapsed US economy was greater than the danger posed by the virus. He cited the high number of deaths from the flu and from automobile accidents as examples of other threats that Americans routinely faced.
However, The ASX is expecting a strong rise at opening as world markets surged on the news of US Fed bond buying and rising hopes for Trump's stimulus plan.
Source: Cameron Stewart, News Corp
Coronavirus: Donald Trump vows to ease restrictions 'to save economy'
"The doctors say let's shut down the entire world and that would be wonderful …(we are) the number one economy in the world we can't do that,' Mr Trump said.
He said the cost of a collapsed economy in terms of lost jobs, anxiety, depression and suicides would "probably" lead to a larger death toll than that caused by the coronavirus if the economy was allowed to remain closed for long.
"This could create a much bigger problem than the problem you start out with … because of the magnitude of our economy … we can't turn that off….there will be tremendous death, probably more death from that than anything with respect from the virus," he said.
Mr Trump has agreed to temporarily back social distancing as a means of slowing the spread of the virus but is increasingly alarmed by the massive economic fallout as the nation grinds to a halt and financial markets plunge.
Earlier he tweeted "WE CANNOT LET THE CURE BE WORSE THAN THE PROBLEM ITSELF," Mr Trump tweeted. "AT THE END OF THE 15 DAY PERIOD, WE WILL MAKE A DECISION AS TO WHICH WAY WE WANT TO GO!"
Mr Trump also offered an apology to Asian Americans for causing offence by insisting on calling the virus "China virus."
"To every single American, please know that the sacrifice you are making at this time is saving lives, many, many lives. It's very important that we totally protect our Asian American community in the United States, and all around the world," the president said.
"They're amazing people and the spreading of the virus is not their fault in any way, shape or form. They're working closely with us to get rid of it. We will prevail together. It's very important."
His comments came as infection rates and deaths from the virus soared by almost 25 per cent in a day across the US which has now recorded more than 42,000 infections and 514 deaths.
It also came as the US Senate failed for the second day to strike a deal over a $US2 trillion rescue package and both Democrats and Republicans hurled names across the chamber amid extraordinary scenes.
"This has got to stop and today is the day it has to stop," a frustrated Senate Majority Leader Mitch McConnell said. "The country is out of time."
The failure of Congress to pass a bill that is desperately needed to help prevent the US economy from complete collapse, spooked investors who sent stocks plunging yet again.
Democrats blocked the bill, saying it was too focused on large corporate bailouts rather than protecting ordinary workers.
"We have an obligation to get the details right, get them done quickly," Democrat Senate Minority Leader Chuck Schumer said. "That doesn't mean blindly accepting a Republican-only bill."
Mr McConnell accused Democrats of blocking the bill to try to include reforms that were not relevant to the impact of the coronavirus pandemic.
Mr Trump's pledge to review social distancing guidelines after 15 days means that they could be relaxed as early next week when the period expires.
But such a move would contradict the advice of health professionals who say the US could suffer an Italy-style catastrophe unless it strictly adheres to social distancing which includes millions of people staying at home and the ongoing closure of bars, restaurants and large gatherings.
But the White House has been alarmed by the speed and magnitude of the shut-down in the economy, with millions of job losses and the devastation of key industries like aviation, tourism, restaurants and small businesses across the board.
Democrat House Speaker Nancy Pelosi said Mr Trump's comments showed how he was all over the place in his response to the crisis.
"The president will not take responsibility," she said. "He's a notion-monger, just tossing out things that have no relationship to a well-coordinated science-based governmentwide response to this
New York mayor Bill De Blasio admitted that the distancing measures being employed in virus hotspots like New York were "extreme' but maintain there was no other choice.
"If you don't slow this thing down, it will sacrifice a lot more on the other end of the equation, and we've got to think about the human cost here," Mr De Blasio said.
The US Surgeon General Jerome Adams warned that American faced a grim week ahead as infection and deaths rates continue to rise.
"I want America to understand: This week, it's going to get bad," Dr Adams said.
"We really, really need everyone to stay at home. … There are not enough people out there who are taking this seriously."
Fallen Hollywood producer and convicted sex offender Harvey Weinstein was reported to have tested positive for the virus as was the husband of former Democratic presidential contender Amy Klobuchar.