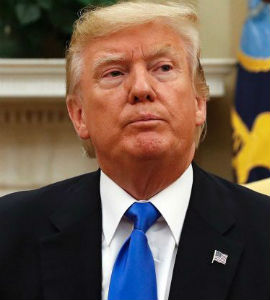 09.11.19.
Perhaps the only politician on earth to be relentlessly hounded like Donald Trump is Pauline Hanson—only a couple of years of it for Trump, more than two decades of it for Hanson, and a jailing! Will that happen to Trump?
Just hours ago a New York state judge has ordered President Trump to pay $US2 million ($2.9 million) for misusing his namesake charitable foundation, the Donald J. Trump Foundation, resulting in funds being used to advance his 2016 presidential campaign. Trump Twittered saying the foundation was an "incredibly effective philanthropy" that had made "some small technical violations". More petrol on the Democrat's flaming effigy of Trump.
Even before next week's public hearings, the Democrats have the narrative they want in order to convince themselves that Donald Trump is worthy of impeachment. A series of credible US officials have now testified that the Trump White House linked the provision of US military aid for Ukraine to a request for that country to announce an investigation into Trump's political opponent Joe Biden.
Source: Cameron Stewart, News Corp
Donald Trump will be impeached, but will that matter in 2020?
But will Democrats be able to sell the argument to most Americans that this behaviour – while certainly improper – is worthy of impeachment? If they do, then impeachment will be a net benefit to the party, tainting Trump's reputation and helping the prospects of the Democrat candidate in next year's presidential election.
But there is a real danger for the Democrats that they could win the battle to impeach Trump in the House yet lose the larger war because most Americans may not agree that Trump's actions are worthy of impeachment.
That fate is what befell the Republicans when they chose to impeach Democrat president Bill Clinton in 1998. It sparked a political backlash against the Republicans because ultimately most Americans did not believe that lying about sex was an impeachable offence, even under oath.
So will most Americans – especially Trump's loyal base – believe that trying to heavy Ukraine to probe the Bidens is a sin worth potentially removing a president from office?
That is why next week's public hearings are so crucial to both the Democrats and to Trump. They will be broadcast across the nation and they are all about winning this impeachment battle in the court of public opinion.
We already know much of what will unfold in these hearings because the first three witnesses due up next week have previously given closed-door testimony, the transcripts of which have been released.
The acting US ambassador to William Taylor, senior state department official George Kent and Marie Yovanovich, former US ambassador to Ukraine, will appear next week.
The testimony they have already given, along with that given by National Security Council official Lt Colonel Alexander Vindman, the US ambassador to the EU Gordon Sondland and the complaint filed by the unnamed intelligence whistleblower paint a picture which is deeply unflattering to the president and his aides.
Officials have testified to their understanding that there was a quid pro quo whereby almost $US400 million in US aid to Ukraine was contingent on the Ukraine announcing an investigation into corruption which involved a probe of Biden and his son Hunter.
Taylor spoke of an "informal channel" of actors led by Trump's personal lawyer Rudy Giuliani who "fundamentally undermined" US policy "by the withholding of vital security assistance for domestic political reasons."
Sondland, a Trump donor and ally, reversed his initial testimony to state that he had actually told the Ukrainians himself that "the resumption of the US aid would likely not occur until Ukraine provided the public anti-corruption statement."
Kent testified Sondland relayed that Trump "wanted nothing less than President Zelensky to go to microphone [sic] and say investigations, Biden, and Clinton."
Despite this testimony, Trump continues to deny there was any link between the provision of aid and the Bidens.
It is true that none of the witnesses say they received such instructions from the president himself and none of them spoke with Trump directly about it. Republicans may seek to place blame for any quid pro quo on Giuliani, whose maverick behaviour in relation to Ukraine unnerved US diplomats. But Giuliani himself says he was acting on behalf of the president.
Trump's request in his July 25th phone call to the Ukraine president to investigate Biden reveals the priority that Trump attached to the Biden issue.
Trump's continued insistence that there was no quid pro quo in US policy despite the now substantial evidence against this claim puts Republicans in a difficult position.
Do they continue to back the president's claims in the face of mounting evidence that he is wrong?
Or do they take a step back and argue that, yes, the president did ask the Ukraine to investigate the Bidens and yes, US aid was withheld to pressure Ukraine into announcing such a probe but no, this was not an impeachable offence?
The testimony released this week makes it all but inevitable that the Democrat-majority House will impeach Trump as early as next month with the vote largely along party lines. It appears no less inevitable that the Republican controlled Senate will acquit Trump, probably in January, also along party lines.
So while the Democrats already have what they need to convince themselves this president deserves to be impeached, the final and most meaningful judgment on Trump's behaviour will not be cast by them.
It will be cast by the American voters a year from now.