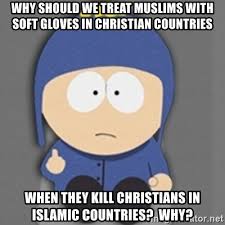 26.02.20
This is a Christian country built on Christian principles but when you listen to the news, especially on the ABC and SBS news, you often hear about the discrimination of Muslims, by non-Muslims. Around the world probably the greatest threat to Muslims come from other Muslims. The same is true for Christians, their greatest threat is Muslims. Unless it's young Christian girls taken as sex slaves by Boko Haram you won't hear about the genocide of Christians. Raymond Ibrahim describes just a few countries where Christians are being killed. Why in God's name do we allow those that belong to Islam in to Oz without the most searching checks?Syria: On November 11, Islamic gunmen opened fire on a vehicle known to be carrying Christian leaders. Two Armenian priests, Father Abrahim Petoyan and Father Hovsep Petoyan, a father and son, were killed and a deacon was seriously wounded. ISIS claimed responsibility. The Armenians had been going to inspect repairs on an Armenian Catholic church that had earlier been damaged in Deir ez-Zor. "We continue to feel the presence of ISIS," responded the Armenian Catholic Archbishop Boutros Marayati of Aleppo, adding that Deir ez-Zor "is a very important town for us, because it is there that many of our martyrs were killed as they fled the Turkish genocide of 1915. Today there are no Armenian Catholics left there. Undoubtedly, the Turks don't want us to return, because our presence would be a reminder of the Armenian genocide."
Turkey: On November 19, in the streets of the city of Diyarbakir, Korean evangelist Jinwook Kim, 41, was stabbed and later died from his injuries. A 16-year-old Muslim was later arrested. According to the report,
Kim had arrived in Diyarbakir with his family earlier this year and was pastoring a small community of Christians. The assailant stabbed Kim three times: twice in the heart, once in the back. Officials, however, claim that the incident occurred in an effort to steal Kim's phone. Local believers urge the authorities to investigate the incident as an assassination, rather than an attempt at extortion. Kim was married and had one child, although his second is expected to be born in the coming days…. He had lived in Turkey for five years.
"This wasn't just a robbery; they came to kill him," insists another local Christian, who received a death threat the day after this incident:
"We always get threats. A brother prophesied a few days ago that they (the government) are going to kick out these foreigners, and probably kill a few Turkish brothers. They are going to cause chaos. They know that I am trying to spread the Gospel, so they may target me too. This may be a sign."
Ethiopia: "Two Ethiopian pastors have been beheaded in Sebeta, near the capital Addis Ababa, in an outburst of violence against Christians." The attack erupted after a leading Muslim incited his supporters against the government over some supposed infraction against him. The report added that "the situation on the ground has become quite challenging for Christians and many churches have been burnt this year. There is also an unverified report that a group of Christians has been forced out of the majority-Muslim town of Ginir, located 303 miles south-east of the capital."
Nigeria: Muslim Fulani herdsmen continued their raids of murder on Christian communities. Two incidents were especially notable. First, in the early hours of November 14, machete-wielding Muslim raiders hacked to death four Christians as they slept in their bedrooms in Agban village, near Kagoro. All of the victims were farmers and members of the local church. Ten days later, on November 24, Muslim herdsmen attacked Agom, a Christian village, around 4:30 a.m. They hacked an 87-year-old Christian to death with machetes and shot another Christian in the head; he died instantly. Both men, regular churchgoers, had been sleeping in their homes.
Cameroon: On November 6 in Moskota, Islamic militants affiliated with Boko Haram attacked a church where they killed David Mokoni, a retired pastor, as well as a hearing-impaired Christian boy. Another pastor was shot in the leg. Afterwards, the militants looted the church, and even took the pastors' ceremonial robes. "Boko Haram has been stepping up its attacks on Christian villages in Far North Cameroon in an attempt to establish an Islamic caliphate from north-eastern Nigeria all the way to northern Cameroon," the report said. The most recent attack follows a "brutal spate of attacks since late October, by gangs of up to 200 militants, [which] has left eight dead": "The first of the attacks came on 30 October with the looting of six mainly-Christian villages in Mayo Sava district…. On 31 October, five people were hacked to death when militants armed with axes, knives and wooden clubs stormed the village of Kotserehé. A sixth wounded man later died from his injuries." Rebecca, a witness, described the slaughter of a boy in Kotserehé: "He was a 15-year-old adolescent. He was so deeply asleep in his bed that he didn't hear any of the noise around him. They thrust the blade of the axe so deeply into his skull, to the point we had to use a hammer to get it out of his head." Many Christians have been displaced by these ongoing attacks and live in "extreme misery," added another local: "This is beyond persecution. It is a dramatic situation, plunging thousands of families into a deplorable humanitarian crisis."
Pakistan: Muslim bakers murdered a teenage Christian coworker and police are covering it up, alleged Sarwar Masih, the father of Akash Masih, the slain 18-year-old: "My son was an expert at baking and making shawarma and burgers" and his "expertise was liked by the customers." As a result, "he faced discrimination and religious jealousy at his workplace. He often complained about the unfavorable situation at the bakery, but he continued working to help his family." One day the bakery called the father and said his son was sick and sent to a hospital. Sarwar rushed there only to learn that his son had already died. When he contacted police, the bakery threatened him and police were unresponsive. They claimed that his son had "committed suicide," even though signs of torture were visible on his neck and back. "These are delaying tactics to defuse the evidences against the culprits," Sarwar reported: "Christians face hatred and discrimination even after their death."
Separately, on November 16, an armed Muslim mob attacked and drove out the Christian families of a small village in Lahore. One Christian teenage girl, Sonia Sarwar, was killed and six others seriously injured in the riot. "The attack was aimed at displacing around ten Christian families from this area," explained Nazir Masih, whose legs were wounded in the attack: "Arshad Kambho, an influential Muslim, wants to grab the property of the Christians." Since 2015, Kambho had been trying to steal the Christians' land. He took them twice to courts, and twice the courts had ruled in favor of the Christians. "Since then, Kambho has been creating disputes with the Christians to damage them and drag them into an allegation," another local said.
Attacks on Christian Churches
Syria: On November 11 — the same day that the two Armenian priests were killed in a hail of bullets (see above) — three car bombings took place in the city of Qamishli, which holds a significant Christian population. One of the bombs detonated near a Chaldean church and killed at least six civilians, as well as damaging the church building; another detonated near an Assyrian Christian-owned market, and a third detonated near a Catholic school. All of the attacks were claimed by ISIS.
Egypt: On Friday, November 1, a fire broke out in a Coptic church in Shubra. According to the report, "The fire had started at around 8:30 am close to the church theatre hall, in a building adjacent to the church itself. Anba Makary, Bishop of South Shubra, was then officiating Mass on the ground floor for persons with disabilities. They were all safely evacuated." In the preceding two weeks, in October, two other churches had been torched. Police concluded that all three fires three were due to electrical malfunctions. Christians argued otherwise, that the cause was arson.
In a separate incident, the civil council of the village of Neda ordered the church of St. George to remove its bell tower, in keeping with Islamic law. The church, fearing that this was just the first warning of a downward spiral toward closure, made a direct appeal to Egyptian President Abdel Fattah el-Sisi. According to the November 17 report,
"[T]he actual construction of the church has been a slow process. It was originally established in 1911, but it didn't receive building permits until 2006. Because the village Christians are poor, construction has been slow. They are afraid that the village extremists will stop them from continuing construction without the intervention of the President. Churches are a contentious subject in Egypt, which is an officially Islamic country. The construction of churches is tightly regulated by the state…"
Pakistan: A Muslim mob demolished a wall and the front door of a Catholic church in the Punjab on the pretext that it was not formally registered. However, according to church member Naseer Masih, "Muslims do not want the church in the village because they have bad feelings towards Christians." The report states:
"On 4 November 50 policemen arrived in front of the [church] gate and asked Catholics if they had ever had problems praying in church. Christians have responded that they had never had difficulties. Meanwhile, a crowd of 60 people gathered to bring a tractor and hammers. With the tractor they knocked down the door, then the Muslims completed the destruction with hammers."
The police just stood by and watched. "[W]e had no warning from the police before the accident," said Naseer. "The Muslims carried out the destruction and the policemen did nothing against them. This means that they are on their side…. We have prepared all the documents," he added, referring to the legality of the modest, now ruined church that had been built in 2007.
Turkey: According to a November 21 report, "Turkey's Council of State, the country's highest administrative court, has recently approved changing the historic Chora Greek Orthodox Church located in Istanbul, currently a museum, into a mosque":
"Commentators say that sets the legal precedent for transforming Hagia Sophia, the very symbol of Byzantine and Orthodox Christianity, which is also currently an official museum, back into a mosque…. The interior of the [Chora] church, which was originally built as part of a monastery complex outside the walls of Constantinople, is covered with some of the oldest and finest surviving Byzantine mosaics and frescoes."
Chora Church's uniquely old and surprisingly intact artwork was first made in 1315—more than a century before the Turkish invasion and conquest of Constantinople in 1453. The artwork images of Joseph, Mary, and Baby Jesus (view here). All these historic frescoes are set to be destroyed when the church is transformation into a mosque.
France: On Sunday, November 3, a statue of St. Bernadette in the chapel of the St. Florent hermitage in Oberhaslach was found beheaded. Because in France, approximately two churches are reportedly violated every day, this bit of vandalism attracted little attention. According to PI-News, 1,063 attacks on Christian churches or symbols (crucifixes, icons, statues) were registered in France in just 2018. A separate January 2017 study revealed that "Islamist extremist attacks on Christians" in France — which holds one of Europe's largest Muslim populations — rose by 38 percent, going from 273 attacks in 2015 to 376 in 2016; the majority occurred during Christmas season and "many of the attacks took place in churches and other places of worship." Unsurprisingly, the parish where the beheaded statue was found suffered an arson attack the year before.