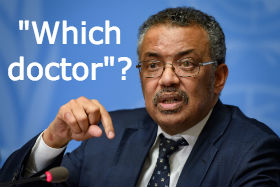 05.03.20.
About 2:40mins into the video below sadly exposes the Director-General of the World Health Organisation, Dr Tedros Adhanom Ghebreyesus, as a complete moron that makes it difficult, if not impossible to take anything coming out the WHO seriously. This head of an international health authority, a supposed doctor, suggests that the stigma of Covid-19 is worse than the disease. No wonder they only pay him $240,000!
Sky News host Andrew Bolt says given Australia pays $8 million a year to the World Health Organisation, it should push to "replace the head" of the organisation, because his behaviour has been "appalling, and has now just got farcical". The Director-General of the WHO Dr Tedros Adhanom Ghebreyesus is now claiming "what's worse than the coronavirus is the stigma about it," Mr Bolt said. Dr Tedros has claimed attaching an ethnicity to coronavirus like calling it a "Wuhan virus, or a Chinese virus," is dangerous.
"More than 3,000 people dead from this Covid-19 virus already, but the boss of WHO says that more dangerous than that is the stigma," Mr Bolt said. Mr Bolt said Dr Tedros "joined China in attacking countries like Australia" for instituting travel bans China. "With Tedros initially against travel bans and other countries slow to react, can you be surprised this Covid-19 virus has now spread to 75 countries? "To Dr Tedros, what's most dangerous is that we might call this the China virus and he sure doesn't want China upset.