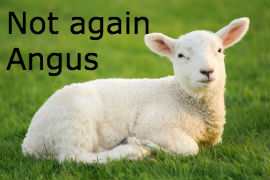 05.12.19.
At last comes a break in the Angus Taylor saga regarding the Sydney Council travel expenses that Mr Taylor got horribly wrong. The chance to skewer his quarry was just too good for Angus to pass up and that obviously clouded his mind into not recalling the old adage: "if it sounds too good to be true, it probably isn't!" And it wasn't! Even a cursory glance by a schoolboy would have spelt rubbish as it did with the Labor Party who referred it to the police, which is ongoing.
Perhaps this is unfair but Taylor took too long to come up with a reason why it wasn't his fault. It also took too long to find a sacrificial Lamb to offer up to a hungry media. So, they are going to slaughter staffer Josh Manuatu on Taylor's office floor, send a pint of his blood to the Labor Party and stitch poor old Josh Manuatu back together and put him back to work—and we're supposed to believe that?
Angus Taylor staffer Josh Manuatu has been identified as the person who distributed false information about the City of Sydney's travel claims that triggered a police investigation.
Source: Greg Brown and Alice Workman, News Corp
Angus Taylor staffer Josh Manuatu named as document leaker
The Australian has confirmed Mr Manuatu, the former federal president of the Young Liberals, obtained the false figures that were distributed to The Daily Telegraph.
He will remain in the office of the Energy Minister.
Mr Manuatu is the former chief of staff to Eric Abetz and spinner for ex-Hume MP Alby Schultz was drafted into Mr Taylor's office to help the minister after the election.
Mr Taylor's office referred The Australian to the minister's previous statement: "I reject absolutely the suggestion that I, or any members of my staff, altered the document in question."