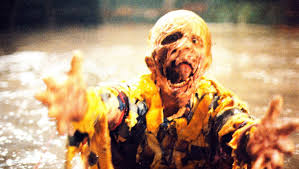 28.11.19.
It's like one of those really bad dream when you wake, sit on the side of the bed trying to figure out if it's real or another dreadful nightmare.
It was dark and cold, the air heavy with the stench of rotting vegetation in a bubbling swamp. The floating flotsam slowly parts and your blood runs cold as a huge blob of slime in the image of Turnbull wearing an old republic cap pushes for forth. In fear of your life you grab a stick and start beating it and the pieces flying off are in the image Pirate Pete FitzSimons with little red bandanas wrapped around an open, empty cranium—that's when you wake up in a sweat!
After largely avoiding the issue of Australia becoming a republic during his three years as prime minister, Malcolm Turnbull has refired the debate with a plan for a two-tiered republican vote that would include a plebiscite on whether a president should be elected by voters or the parliament.
Source: Greg Brown, News Corp
Malcolm Turnbull fires debate with two-step push for republic
Mr Turnbull, who led the Australian Republican Movement's yes campaign during the ill-fated 1999 referendum that decisively opted to keep the Monarchy, won the backing of the modern-day ARM after floating the plan at a speech on Tuesday night.
But his idea of a plebiscite to decide whether a republican head of state should be directly elected or appointed by parliament puts him at odds with the position of current ARM chair Peter FitzSimons.
During his time as Prime Minister, Mr Turnbull declared that the issue should not be revisited until the end of the Queen's reign and that there was no appetite for change.
But in January 2018, after criticism from former Labor Prime Minister Paul Keating that he lacked the political imagination to gain popular support to advance the republic, Mr Turnbull floated a postal survey or plebiscite to guage support for whether to have a directly elected president before holding a referendum to amend the Constitution.
That intervention sparked divisions in the Coalition with avowed monarchist Tony Abbott telling The Australian at the time that Mr Turnbull was "jumping on the Keating bandwagon'' by holding out the prospect of a plebiscite.
When contacted on Wednesday about Mr Turnbull's comments on Tuesday night, FitzSimons said he listened "very carefully" to Mr Turnbull's proposal and it would be "carefully weighed up".
"It would be like our damn hide to dismiss his views and I don't in any way," FitzSimons said. "We are resetting, moving forward again, and his views are being carefully weighed up."
The Australian can reveal there was a $100,000 donation commitment lodged with ARM after a republican event in Canberra on Tuesday night, which was attended by Australia's rugby league coach Mal Meninga, Anthony Albanese and more than a dozen MPs.
Speaking at the event at Old Parliament House, Mr Turnbull said: "we cannot afford to have another referendum where we are fighting on two fronts".
"What we need to have is a plebiscite, a public vote, which sets out a direct election model and a parliamentary appointment model," Mr Turnbull said, while adding he did not think the issue should be pursued until the end of Queen Elizabeth's reign.
"Once that decision has been taken then that is the model … that gets put into amendments that go into the referendum."
Speaking before Mr Turnbull at the event, FitzSimons said the first public vote should be on the question of whether Australia should become a republic, which was the position Labor took into the May election.
Opposition republic spokesman Matt Thistlethwaite also said Mr Turnbull's idea should be considered.
Mr Thistlethwaite criticised Mr Turnbull for failing to take action on the issue when he was prime minister.
"Malcolm gave a very powerful and passionate speech, but where was that when he was prime minister?" Mr Thistlethwaite told The Australian.
"He has become Monday's expert on the republic."
Mr Turnbull said it was "crazy" having politicians forced to leave parliament because they are dual citizens while the Queen's first allegiance was to another nation.
"She is not a citizen of Australia," Mr Turnbull said.
"So how crazy is it that we say that a member of parliament or senator can only be a citizen of Australia because we want to have that undiluted, singular allegiance to this country and this country alone.
"And yet our head of state's first allegiance, and that of the family, plainly is overwhelmingly of the land of their birth, the United Kingdom."
Mr Turnbull said Australia was in "no way" an independent nation in 1901 or even when Sir Robert Menzies was prime minister.
"Don't ever believe that our constitution was the birth certificate of the nation. Australia was not an independent nation in 1901. No way," he said.
"Australia was a geographical description, it was a self-governing dominion of the British Empire.
"It was not an independent nation. But that is what we have become.
"And so the republican cause is a jealous cause because we say 'we love this country so much we demand that our head of state is one of us as well'."