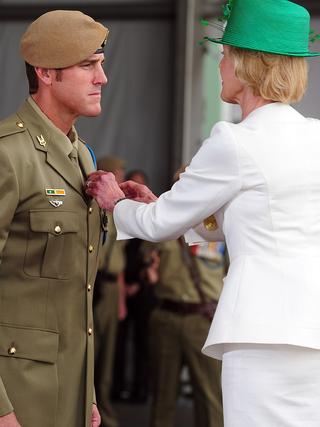 11.06.21.  
A fine thing it must have been in the courtroom when the legal jackals for the defence watched with glee as their prey, Australia's decorated soldier, a hero, buckles under their savagery and cowardice by breaking down—a scene not seen on the madness of a battlefield. How the jackals must be. How to finish him off is now the topic in their poisonous huddle!
All day, Ben Roberts-Smith's ­descriptions in courtroom 18D of battlefield encounters – machine gun fire from insurgents, clearing Taliban compounds, crawling up cliffs with the barest of cover – had been clinical and precise. But shortly after 4pm, the former Special Air Service Regiment soldier finally broke down in tears. Folded into his chair in the witness box, the 202cm-tall veteran described the battle at Tizak, in Afghanistan's Kandahar province, for which he received the Victoria Cross.

Source: Nicola Berkovic, News Corp

The bloodless battle that finally overpowered Victoria Cross hero Ben Roberts-Smith

One of his comrades had stood in front of three machine guns to provide him cover while he rushed towards a small mud-brick outhouse. Another soldier, his face covered in soil, was also taking significant fire just 30cm from his head.
"When you see that, you have to make a decision," he said. That was all he could get out before emotions overwhelmed him.
Mr Roberts-Smith was the first witness to give evidence at his defamation case against Nine newspapers and journalists Chris Masters, Nick McKenzie and David Wroe over a series of articles published in 2018 that he says painted him as a murderer and war criminal.
On Thursday, in the Federal Court in Sydney, the former soldier was no longer carrying the 70kg backpack he had described dragging through the Afghan desert, but he was prepped for the fight of his life.
Every now and then his barrister, Bruce McClintock SC, would stop to ask him how particular ­allegations from Nine's legal team had made him feel.
It was "devastating" to be ­accused of multiple murders, he said, it made him "very angry" to be told he had been complicit in a murder ordered by one of his comrades. Domestic violence, he said, was "deplorable".
Parents Len and Sue Roberts-Smith leave Federal court on Thursday. Picture: Nikki Short
Parents Len and Sue Roberts-Smith leave Federal court on Thursday. Picture: Nikki Short
"I spent my life fighting for my country and I did everything I possibly could to ensure I did it with honour," he said.
"It breaks my heart actually."
Mr Roberts-Smith's lawyers have argued he has been the target of a "poisonous campaign" by bitter and jealous soldiers. Any killings he carried out were in the heat of battle, they maintain.
But Nicholas Owens SC, for Nine, told the court on Thursday that 21 current and former SASR members would testify that Mr Roberts-Smith was responsible for six unlawful killings of "PUCs" – or persons who had been under the control of the Australian armed services. It was "inherently implausible" they were all lying or motivated by jealousy or trauma, he said.
On that day in 2010 in Tizak, the five members of Mr Roberts-Smith's team had walked in a straight line, spread 5m apart, through a fig orchard, trying to engage an insurgent who had been firing at them with a machine gun. It was "eerie", he said, to walk through the trees, with shards of light coming through the canopy, when you could no longer see or hear the enemy but had to keep moving forward.
Soon, they were crawling on the ground through machine gun fire. But the second instalment of the battle would have to wait. At 4.15pm, it was a "convenient time" to adjourn for the day.
After the judge left the courtroom, Mr Roberts-Smith's parents moved towards their crumpled son, still seated where he had been giving evidence. His father, Len Roberts-Smith, a former judge advocate general in the Australian Defence Force, placed a hand on his shoulder.
But the 42-year-old strode out the other side of the witness box. He may have briefly lost his composure, but he was not about to accept their comfort in a room packed with court watchers and journalists.