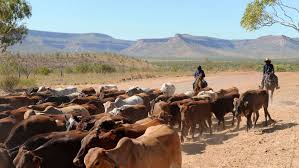 15.06.19.
Paige Taylor

, Indigenous Affairs Correspondent

 writing in
The Australian Weekend
acquaints us with the Durack family and their substantial Aboriginal association. Ms Taylor also quotes what the new West Australian Indigenous Affairs Minister Ken Wyatt might say, unless his speech to be is revised, when he  pays tribute to the Duracks for,
"their immense contribution to Australia and their decision to formally acknowledge their binding familial ties to Aboriginal people of northern Australia."
Much as been written about those "binding Aboriginal ties" and not all of it stacks up to thorough research beyond biased hearsay. Errors of place names, people's names of the long since gone and events embellished for better effect—such are sometimes the work of revisionists, if not antagonists.
Source: News Corp
Durack dynasty unveils its Aboriginal side
Lawford Benning and Mary Durack have known for a long time there is more to the story of Aboriginal people's shared history with her nation-building family, a dynasty forged by Australia's greatest cattle drive from Queensland's channel country to the far northeast corner of Western Australia from 1881 to 1883.
Precious archival footage shows Mr Benning's Miriuwung kin working cattle for the ­Duracks on land that is now ­25m underwater, dammed in Sir Charles Court's Ord River Scheme.
Irishman Patrick Durack was 19 and a struggling tenant farmer from Galway when he sailed for Australia with his parents and siblings in 1853 on the Harriet. He ­famously came to control a portion of northern Australia equivalent to half the size of his home country. His granddaughter, Dame Mary Durack, told his story in the 1959 classic Kings in Grass Castles, later a miniseries starring Ernie Dingo.
For the past 40 years, the family tree on display in the historic Durack homestead-turned-­museum has included familiar names from a cross-section of Australian life, including author Dame Mary, her artist sister ­Elizabeth and Malcolm Fraser's attorney-general Peter Durack QC. What the family tree does not show is that some Aboriginal people in the Kimberley are Duracks too.
In the shade of boab trees outside the homestead today, Elizabeth's daughter Perpetua Durack will unfurl a 1.5m-long updated family tree that she and her brother Michael have collated in consultation with other family members. For the first time it ­includes the Aboriginal grandchildren of Patrick Durack's sister, whose surname was Skeahan but whose descendants came to be known as Skeen.
This act of amity has drawn West Australian Indigenous ­Affairs Minister Ben Wyatt, an Aboriginal man, to the remote Kimberley town of Kununurra to pay tribute to the Duracks, their immense contribution to Australia and their decision to formally acknowledge their binding familial ties to Aboriginal people of northern Australia. "What we specifically honour and celebrate today is an extraordinary story of reconciliation," Mr Wyatt will say, according to a copy of the speech he will deliver in front of the Duracks, their indigenous relatives and representatives of the Miriuwung and Gajerrong peoples.
The more fulsome family tree will be displayed in the homestead built at the foot of Mount Misere in 1895 from limestone blocks with crushed termites mounds as mortar. It was dismantled and moved to higher ground after a dam was built in 1972 to irrigate cotton, a crop that ultimately failed because of insects.
Mr Wyatt sees the reconstructed homestead as "a symbol for our whole nation, because the Durack story in all its grand scope and intricate complexity, tells so much about the epic story of Australia".
In his speech, Mr Wyatt will ­acknowledge that the Duracks ­arrived and built their homestead when the contest over Miriuwung country was at its fiercest.
"The truth about that period of conflict can be explored and understood as shared history because the Durack and Miriuwung relationship are transcending that period of violence," he will say.
Some of that violence is relayed in Dame Mary's book, based on her grandfather Patrick's diaries. They include a reference to a Durack being "clubbed to death by blacks" and Patrick's disgust at seeing Aboriginal men and women chained at the neck by police.
Mr Wyatt will say that ignoring history perpetuates a conspiracy of silence "but truth-telling must be a process leading to reconciliation, healing and the ownership of our shared history". "If it is used to blame, incite anger or entrench victimhood, the process of truth-telling fails," he will say.
Some of the old stories are difficult for Mr Benning, who is guiding his people in the commercial world as head of the Miriuwung Gajerrong Aboriginal Corporation in Kununurra. But he cherishes the past too — he is pleased to own a children's book by the late Dame Mary and Elizabeth Durack called ALL-About: The Story of a Black Community on Arg­yle Station Kimberley. It tells stories about his great-grandmother Nubbudah and her son Jimmy, Mr Benning's grandfather.
"We know from what our own old people told us, and from what Dame Mary and others have written, that the relationship was not idyllic; it was complex," Mr Benning says. "But all of us can cope with a bit of complexity. We don't need to hide the fact that the relationship between the Duracks and the Miriuwung had both its good sides and it had serious bad sides. Remarkably, the relationship has continued all the way through to the present."
Mr Benning says his family has for decades visited the Duracks in their Perth homes and the ­Duracks have been by their hospital beds when they were sick.
"There might be an Aboriginal mob like ours elsewhere in Australia who have managed to maintain unbroken good connection with the white family who first settled on their land, but I have never heard of another with a relationship like ours," he says.
"So I am going to claim that it is unique, until someone proves otherwise."
While the Miriuwung once worked for the Duracks, Mr Benning is proud that several ­members of the extended Durack family now work for the Miriuwung Gajerrong Aboriginal Corporation.
Among them is his friend and one of the multiple Duracks named Mary, a communications consultant who lives in Kununurra. Her great-great-grandfather Darby was one of the Durack men who drove 7250 head of cattle from Queensland to establish the family in the east Kimberley. The journey took two years and four months. Half the cattle and several of the men died on the way.
Mary Durack has long understood that some of her relatives are indigenous.
"To me it just seems ­completely appropriate that the Aboriginal branch of the family is being embraced like this," Ms Durack said.
Lately, her communications firm has helped to tell the story of the Miriuwung Gajerrong corporation's cattle venture.
Today Mr Wyatt will announce that the corporation will also manage a vast swathe of land around the Ord, a valuable parcel they can use to graze cattle or build a tourism business.
It is a decision by the McGowan government acknowledging the Miriuwung's traditional lands were taken by the irrigation scheme without consultation.
Today's updated Durack family tree includes another generation of leaders in their field, such as actress Lucy Durack, Sandalford Wines owner Peter Prendiville and ABC journalist Doug Durack. For the first time, it also includes the Aboriginal grandchildren and great-grandchildren of Patrick's sister — another Mary — and her husband John. Their son Jack married an indigenous woman named Linda from Auvergne Station near Timber Creek.
Aboriginal man Ribnga Green is the great-grandson of Jack, and he has known this since he was a child. He says the family story is coming out the right way.
"What I really like is that it has happened naturally, when everyone was ready in their own time. No hoo-ha," Mr Green said.