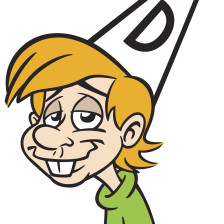 Has Sydney Uni become a political tool for GetUp!?
Nobody will say how much money GetUp! is spending.
OK! If the Sydney University of Technology feels free to accept money for political interference, that amount times two should be deducted from taxpayers' funding. It's no wonder that our uni's are producing academic idiots barely capable of becoming effective kitchen pigs (a modern word for dishwasher where total skill is to load the machine, press the button and unload with minimum breakage.). Those who take part in this abuse of intellect should do equal time at night handing out dinner to the homeless in the city's soup kitchens. A modest return for the taxpayers who pay for their education!
Activist group GetUp! has stepped up its campaign against corporate taxpayers by giving academics at Sydney's University of Technology a year's worth of funding to "keep corporate power in check".
Source: News Corp
GetUp! uses UTS to 'expose' business misconduct
The funding to UTS academics Roman Lanis, Brett Govendir and Ross McClure will be spent on a project GetUp! says "has one simple mission: conduct research to expose corporate misconduct". "In the face of increasing corporate influence, GetUp! is funding a year of independent research at UTS to keep corporate power in check," an ­announcement says.
Neither the university nor GetUp! would say how much money was involved.
Education Minister Simon Birmingham last night spoke out against the donation.
"Imagine the howls of indignation if the BCA was engaged in the same tactics to fund a bunch of academics purely to argue for company tax cuts," he said. "I'd hope all standards of academic freedom and research integrity will be met and that this funding isn't buying predetermined outcomes dressed as independent analysis."
The project, launched on April 10 at a function at UTS by GetUp! national director Paul Oosting and the three academics, continues previous GetUp!-funded projects at the university.
These include a research paper released in 2016, titled "Analysis of tax-avoidance strategies of top foreign multinationals operating in Australia: An expose", which examined the tax structures established in Australia by large multinationals, including Apple, Google and Chevron. It said a government crackdown would lead to billions of dollars of extra tax revenue.
UTS chancellor Catherine ­Livingstone did not respond to questions as to whether she was comfortable that research by UTS ­academics argued big corporates were avoiding tax. Ms Livingstone chairs the Commonwealth Bank.
The value of funds for the work, which GetUp! calls "people-powered research", was commercial in confidence, a representative said.
However, according to GetUp!, 5297 members have given money for the UTS corporate tax research and the publicity campaigns in the past two years.
"The research was funded by our members, small donations by people who want to chip in to fuel the research fire," the representative said.
The UTS researchers have worked on previous GetUp!-funded campaigns. Professor Lanis is an associate professor and Dr Govendir is a lecturer in the accounting discipline group of the business school. Mr McClure is a PhD student.
Other studies their group has worked on concerning corporate tax practices were funded by United Voice union and the Accounting and Finance Association of Australia and New Zealand.
UTS defended the academics' use of GetUp! funding, saying its "researchers conduct research for parties from government, business and community, who seek their expertise in many fields".
"All commissioned research projects are academically rigorous and evidence-based. It is for this reason that those parties come to us."
GetUp! said the research agenda for the project was not yet final. The activist group has campaigned strongly against the Turnbull government's push for company tax cuts, and the three UTS academics have also pitched into this debate, arguing in an article for The Conversation website this month that Australia's dividend imputation system, which gives shareholders a tax credit for tax paid by companies, encouraged companies to pay more tax.
They cite research showing that, from 2004 to 2015, firms paying div­idends with tax credits had an effective tax rate up to 16.9 per cent higher than firms that did not: "As a consequence of imputation, there is a much lower incidence of corporate tax avoidance by large, domestic corporations in Australia than in other countries."
Business Council of Australia chief executive Jennifer Westacott said research overwhelmingly showed a company tax cut would drive ­investment, boost jobs and help ­lift wages.
"It isn't just the academic research; the Treasury, the IMF and the OECD have all agreed that company tax is one of the most ­effective levers the federal government has to get Australia's economy growing again."