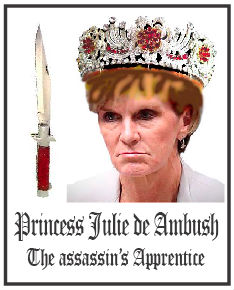 17.05.19.
One of Australia's great political disappointments must be Julie Bishop. Bishop once inspired the populace as PM quality—precisely measured—diplomatic delivery. And then her talons were unsheathed and the bitch revealed. Under Turnbull she excelled as an assassin—Abbott! Skulking around plotting in the dark has fooled the dope Shorten who seems ensnared in the black-widow's web.
Julie Bishop's character has been exposed after calling the wrong shots on whom she supported to fill her parliamentary vacancy. Julie might be best remembered as an extravagant clotheshorse.
Bill Shorten has indicated Labor would consider offering a diplomatic post to Julie Bishop if he wins on Saturday, including potentially the plum job of ambassador to the US.
Source: News Corp
Shorten eyes Bishop for US envoy
The Opposition Leader, who will need to find a replacement for US ambassador Joe Hockey if Labor wins, said he rated Ms Bishop highly for her response to the shooting down of MH17, and hoped he would stand up to Vladimir Putin and "behave like her" if he was prime minister.
"I think Julie Bishop's good at most things she does. She's said she wants to work in the private sector, but I'll certainly be talking to her. I know that her and Penny (Wong) have a very good working relationship," he told a business breakfast in Ms Bishop's hometown of Perth.
"I've got a lot of respect for her. She's a good person and we can't waste talent."
Installing Ms Bishop as Australia's representative in Washington would allow an incoming Labor government to tap the former Liberal deputy leader's global network of connections and conservative ties in the US.
However, some senior Labor figures believe the Washington post, which is considered a prime ministerial appointment, would more likely go to an experienced hand with strong ALP links.
Labor sources say Senator Wong rates Ms Bishop's ability as a diplomat highly but suggested New York consul-general or UN ambassador could be better suited to the jetsetting former foreign minister.
Pushed on the prospect of Ms Bishop taking the plum diplomatic post, Mr Shorten said he didn't want to get ahead of himself.
"I'm not going to put a name against a label because we haven't won," he said. But he did say Australia should make better use of its retired political leaders rather than "pushing them on the scrap heap".
Mr Shorten suggested there could be a role for Malcolm Turnbull — "love him or hate him, he's got skills" — and said Kevin Rudd and John Howard could also have more to contribute.
There is precedent for prime ministers reaching across the aisle for important diplomatic appointments. Mr Rudd appointed Tim Fischer as ambassador to the Holy See and former foe Brendan Nelson as ambassador to the EU and NATO.
Ms Bishop this week batted away questions about potentially replacing Mr Hockey in Washington, but did not rule it out.
"I have had the No 1 diplomat's job in Australia. I was foreign minister for five years, and that's the best job you can have in the foreign service for Australia," she said.
"I've been the foreign minister. I'm not looking to get a government job. I'm very happy to pursue other duties in the private sector."