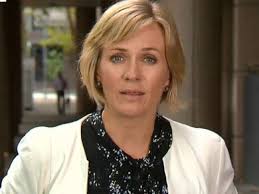 12.07.19.
It must be coincidence that Dr Kerryn Phelps ex-MP for Wentworth and the now MP Zali Steggall for Warringah are both useless  repesentatives of the people—well, they are to people with any sense at least. Phelps, in her short political career endowed the tax payer with a burden of millions and a loophole for undesirables into Australia and thus Centrelink their ultimate goal. And Steggall, well, … she doesn't seem to know what she wants or who she wants to be. Australian voters must find a way to "snout proof" their elections. This utter stupidity from Steggall eclipses Phelps' mess except Phelps cost us plenty and Steggall has made us laugh as you will when you read this article about a person that can actually legislate laws. Thje first order of business should be no more dopes in Parliament!
Zali Steggall was sworn in as an independent MP only last week, but already she has decreed a plan to "push for a plastic-free Parliament House". "I believe all single-use plastics should be phased out by 2025," she told her 4000-plus Facebook followers.
Source: Alice Workman, Strewth Editor, News Corp
Zali Steggall's waste dump
"Thanks to everyone in Warringah who is reducing their plastic use this #plasticfreeJuly." This was news to the Department of Parliamentary Services, which runs the building and has its own sustainability program in place. According to the DPS, all takeaway plates and cutlery are 100 per cent plant-based biodegradable, and it has switched from plastic drinking straws to paper. Sugarcane pulp bowls and lids are used for buffet, salad and soup takeaways, and there are no plastic bags. RecycleMe coffee cups are used and keep cups are sold, with a discount for people who BYO cup. Plastic water cups have been replaced with melamine reusable cups and a water fountain has been installed in the schools area. Then there's the food surplus the DPS donates to OzHarvest, the waste diverted from landfill to a local worm farm, and the facilities in place to recycle printer cartridges, paper, cardboard, lamps, used oil, grease, batteries, mobile phones, landscape waste and metal. When Strewth asked Steggall what her specific parliament plastic problem was, if she had met or spoken to anyone before announcing her plan and if she could explain where the date 2025 came from, she replied: "I believe all single-use plastics should be phased out by 2025 and I am working towards that goal." Takeaway shops on the Manly Corso, be warned!