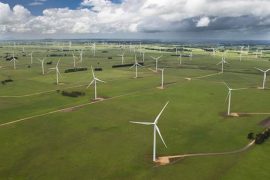 13.10.19.
By Jack Cade
The myth of cheap and reliable renewable energy by way of wind generators and solar panels reaches new heights of madness with the Federal Government's blessing of the creation of the biggest wind farm in the southern hemisphere. This giant monument to climate hysteria, environmental hypocrisy, government incompetence and corporate greed is to be situated around the small farming community of Rokewood in Victoria and is only a few kilometres south east of Ballarat. It probably doesn't need saying that the Victorian Government is right behind this dubious enterprise as is the Mayor and Councillors of the Golden Plains Shire.
We are not talking about half a dozen wind generators sitting on top of a hill here. What we are talking about is a wind farm that gobbles up 39 farming properties, covers an area of some 16,739 hectares (167 sq klms) of prime farming land with 228 giant windmills and is an environmental disaster in the making.It surrounds houses and the willingness of the creator of this monstrosity, WestWind Energy, to compensate homeowners whose houses are located within 2 kms of a wind generator suggests that there will be a continuous noise problem and probable resulting health issues and other inconveniences to be experienced by local residents and business owners. One must also expect that farm animals and wildlife will suffer and birdlife decimated.
It is estimated that construction of this grotesque monument to environmental vandalism will cost some $1.5b to $1.7b and will entail the use of approximately 25,200 tons of steel, 70,000 tons of concrete, 260 tons of non-recyclable plastic.  There is no estimate available for the amounts of rare earth and other materials that will be consumed.
Then there will be the ongoing compensation to farmers for the use of their farmland and the yearly compensation to home and business owners who just happen to be inconvenienced by wind generators situated within 2km of their properties. Added to all of that is ongoing maintenance and after only 18 to 20 years of intermittent energy production the replacement or dismantling and removal of defunct wind generators.  However, there is no mention of the environmental impact of the disposal of wind generators and their associated equipment that will in all probability be relegated to landfill.
WestWind Energy claims that their monstrosity will provide enough energy to power 500,000 homes but does not mentioned in any of its propaganda blurbs the huge backup batteries that will be needed to provide energy to the 500,000 customers when the wind doesn't blow. Then again, maybe they are planning on using very large diesel generators in lieu of the reliable base load coal or gas fired power stations that are considered the work of the devil in Victoria.
One must laugh at the inability of those in government to come to terms with the reality of the recent failure of such batteries in South Australia. The huge batteries are grossly damaging to the environment right from their inception. They call for extended and unsustainable mining of the materials used in their manufacture and this coupled with their ridiculously short life expectancy, which can be as low as 5 years, makes them a ticking environmental time bomb.   Unfortunately that is not spelt out in WestWind Energy propaganda that actually calls for community investment in the project as you can read for yourself in the following:
Here!