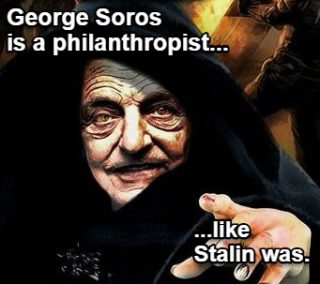 George Soros, 350.org, and
an Australian Country Council
He has a long reach does George Soros, the billionaire philanthropic funder of green ratbaggery.
If there is an organisation anywhere on earth that is agin' the banks or t'guvment, there you will find George the "philanthropist" wining, dining and funding with them.
Especially if there is anyone who is trying to mine coal, or burn coal, you will find one of George's fundees – in particular 350.org – the richly endowed ultra-left international organisation. They are up in Queensland right now working with Greenpeace and others to scupper the coalmines – to save the Barrier Reef if you please.
But who would have thought that in a little coastal town in NSW you would find George's influence so strong that it influences local council decisions?
Yes indeedy. In Nowra, the Green Mayor has secret plans to make a stand for saving the world – by persuading council to divest itself of any shares in any company that has the hated coal.
And, by the look of things doing it in concert with the Liberal Party? No? Apparently so. It won't be done without the support of the Gash Team – Liberal Conservative Independents one and all.
Let's go back a bit and speculate how it might have happened, that two totally opposite Party's co-operate.
In September last year, immediately after the Local Government elections, there was seen in the seaside resort town of Huskisson, Jo Gash, Liberal ex-Federal Member for Gilmore, ex-Mayor of the Shoalhaven, and now the leader of the tattered remnants of the Gash Team which had its arse kicked in the last LG election. She was there with Councillor Patricia White of the Gash Team who must have driven for hours to be there as she is normally a hundred miles south in Ulladulla at that time of day.
The two wandered up and down until joined by the current Liberal Federal Member for Gilmore, Ann Sudmalis, MP.
Now, Ann Sudmalis shares a house with Jo, she was Jo's advisor for about 15 years when Jo was in Federal Parliament. Jo, when Mayor was, and likely still is, Ann's very active campaign manager.
The three stooged about a bit and then, blow me down these well known conservatives, these standard bearers of orthodoxy, were joined by Amanda Findley – the resolutely Green Mayor. Huh??
All four disappeared, likely to get something to eat, before going on a public girl's only cruise around Jervis Bay. "Likely" because Amanda could not restrain herself at the first meeting of the new Council when she told her enthusiastic audience how beautiful the Shoalhaven is when seen from the deck of a cruise ship as she had done a few days before. It could all have been accidental, of course. Two local ladies meeting two ladies from an average of fifty miles away.
Now Amanda is no on-again, off-again, gone-again Flanagan when it comes to Green issues. There is nothing half-hearted about her devotion to Green policy. She is on first name terms with the Greens in Macquarie Street, she mentions a few times the aboriginal view that Australia Day should be Invasion Day, she addressed Nowra businessmen recently and told them that climate change was the biggie of our life. More than that, she has (yesterday) lodged a Mayoral Minute containing a brilliant idea for something to do with am important strategic real estate acquisition smack dab in the centre of the central business district of Nowra – refurbish it as accommodation for the homeless!!
Furthermore, Amanda reported (on her personal blog before the 2012 council election) that she had been approached by Her Ladyship, Jo Gash, the then Federal MP for Gilmore, to discuss a preference deal. Jo had decided to resign from Federal politics and put together a Gash Team with herself as Mayor. Could something be done??
Amanda's face froze, recoiled; she swayed back in horror, palms outward. She would rather eat Japanese-killed whale steaks cooked over a fire of burning tyres than preference any conservatives. And said so. Or words like that. You get the picture. It was reported here and is reprinted on this page.
So? There you have it – will Amanda's Greens get along with Jo's Gash team? Unlikely, you think? Not a bit of it. That trip around the bay with its head-spinning ozone must have cleared everybody's head. They are now the greatest of friends and, in issues before the Council, Amanda's Greens and Jo's Liberal-inclined Team vote as though they were Siamese septuplets. The tally is usually the same, 8-5. The extra vote is the Lone Labor Councillor.
Back to George Soros and his monster 310.org.
310.org is a behemoth, a Tyrannosaurus Rex among organisations for saving the world from CO2 emissions. George is their paymaster – among others to be sure, but none so generous.
And Amanda's Greens intend to carry out 310.org's plans for snookering coal mines. In exactly the same way that the Queensland University (yeah, the one that's been in the news over the no-whities computer room) that is, by "divesting" themselves of the shares they hold in coal mines.
How does MM know this?
Well, look what fell of the truck yesterday.

                Shoalhaven Greens
        Grass Roots Democracy – Ecological Sustainability –
        Peace and Non-Violence – Social Justice
        Minutes – Monthly Members Meeting
        Date: Feb 9, 2017  Time: 6.30pm     Venue:  Squid Studios Nowra
and

Council     Reference Group

Working to develop a plan to implement election policies eg climate change, 100% renewables.

A move to reinstate council Climate Committee was passed. Request for briefing on climate change, agreed by council.

Some councillors to attend community energy conference.

350.org motion to go to council and motion to divest council investments from fossil fuel. Need to see the rates rise issue through before projects can be developed.

Report attached
Councillors,

reference group members
The bolding is MM's to ameliorate the glazy look that comes into eyes when reading minutes, but, heaven forfend, but doesn't this look like caucusing? Before the matter is even debated is there not an appearance that agreement has been reached on the issue?
All the Greens councillors were noted as being at this meeting and there is no note than anyone disagreed. Caucusing is covered by the Code of Conduct to which all Councillors must agree and the Model Code says:
3.9
You must not participate in binding caucus votes in relation to matters to be considered at a council or committee meeting.
3.10
For the purposes of clause 3.9, a binding caucus vote is a process whereby a group of councillors are compelled by a threat of disciplinary or other adverse action to comply with a predetermined position on a matter before the council or committee irrespective of the personal views of individual members of the group on the merits of the matter before the council or committee.
Well, there can be a disclaimer that everyone fully understood what George Soros wants and what 350.org wants and nobody is forcing them to vote under any adverse action. In that case there is no caucusing.
Note the rider, by the way,that they have to clear up the rates rises before they can divest council investments in coal. These rate rises were recently carried by the usual vote 8-5,  4 Greens 3 Gash team and 1 Labor.  So that's been done and the way is clear.
What is more interesting is that the Shoalhaven Council does not have any investments in companies that mine coal or sell coal or eat coal or write poems about coal.
What the Council does have, however, is investments in banks – lots of them. And banks have investments too, the Macquarie Bank for example, and it is by no means impossible that these banks have shareholdings. And a lot of them probably lend money to coal mining companies – perhaps even to the poor miners themselves to buy a house.
But there are only 4 Greens and 1 Labor – surely, in spite of seeing eye to eye on jacking up rates and things they don't expect that Jo Gash and her team will support divesting any dirty investments in coal or in any comppany that does have investments in coal while Mr Trumble Turncoat Turnbull is gung-ho for coal nowadays?
Ah, but this is not the only document that fell off the back of a truck. MM has 5 in all and mighty interesting reading they are but, that aside, one of these documents is headed
Election Policies: the pathway through council
Policy: Action on Climate Change 100%  Renewable Energy
Action to implement policy – divest from fossil fuel investment
– renew Climate Change Action  Committee
Timeline
21st March: Notice of Motion – based on 350.org – submitted to GM (General Manager)

23rd March: Councillor briefing on Climate Change by Bob
28th March: Ordinary Council Meeting 350.org Motion passes through council 8 votes/5 (hypothetically)
You gotta love that "hypothetically." It is "hypothetically" 8/5 because they are apparently reasonably confident of 7.
Why? Why confident of 7? Because  this very same "Action" document records this:
The Community Energy Conference is on Feb 26-March 1 and will be attended by at least 1 Team Gash member, hopefully increasing our reliable votes on renewable energy initiatives

to at least 7, and maybe 8. 7 votes is enough!
So Liberals and Greens look like combining to carry out one more part of the plan to sink coal and embarrass Mr. Trumble.
Why would they do a thing like that?
Quien Sabe?
As you see in the other article below the leader of the Gash Team, Jo Gash, has cosied up to the Greens before this, and Ann Sudmalis the sitting Liberal MP is a bit of a green herself what with publicly weeping when trees get cut, and a reputed donor to Greenpeace.
And Jo Gash is Ann's campaign manager, her housemate, and is the dominant force in Shoalhaven Liberal politics.
So it is a reasonable guess that Soros' plan to banjax coal production will get a little nudge from the Shoalhaven when, to a blare of pre-arranged publicity, the Council will vote to divest itself of the hated coal shares or any company that has same.
MM was down at the Gypsy Tea Rooms the other day and after having crossed the waitress' hand with silver, she studied the leaves for MM and predicted that Jo personally could vote against but that at least one of her team would support. And that would be enough to please George and his 350.org.
Now this is interesting stuff in a way, but it needs to be remembered that the seat of Gilmore is the shakiest in the country for the Libs, every poll seems to be heading south, it is commonly reported that internal voting shows much less than 1% margin, and Pauline Hanson is booting home winners every day. So the issues become not local – but National.
It is not too much to say that the result in the next election for Gilmore will influence how much our electricity bill will be.