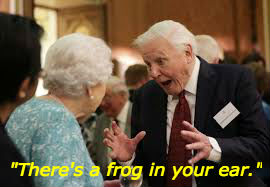 12.07.19.  
David Attenborough, holder of 32 honorary degrees, possessor of about $32million in the bank and a Knighthood has told the world and specifically Australia that more must be done about the climate
crisis
emergency. One might think with all that intelligence and money that he might stop climbing trees and and laying on the ground looking up the bum of the elusive Patagonian  Farting Rat (
rodentius flatulantious
).
Sir David having just fallen out one of those trees has obviously landed on his head and now suggests that air travel should be made much more expensive. Perhaps he has shares in an airline? Anyway, two British twits in one week is enough—both of them Sirs too! Perhaps his next trip down under will be via foot to bicycle?
David Attenborough says air travel needs to be more expensive to fight climate change, but others say that is 'mean-spirited elitism'. Sir David Attenborough says climate change action is so urgently required we should make air travel more expensive so fewer people fly – even if government needs to step in to do so. Attenborough also took aim at Australia, accusing our political leadership of being unwilling to tackle the effects of climate change.
David Attenborough says air travel should be more expensive to fight climate change
But Australia's Institute for Public Affairs rejected his push for pricier flights saying it was "mean-spirited" elitism.
And while the Climate Council agreed we should do more to combat climate change, it said we should concentrate on cutting coal to avoid "disruptive transitions" such as making air travel more expensive.
The 93-year-old broadcaster made his incendiary comments as he was giving evidence on climate change to the British parliament's Business, Energy and Industrial Strategy Committee.
"I think that one way to reduce these things is to count the costs of what it is that air travel costs in real terms – in what it costs the environment," he said.
"And if you cost that, then you will see the tickets are extraordinarily cheap."
Problem grows
Some estimates claim aviation accounts for four to nine per cent of the total impact of human activity on the climate, while the industry itself acknowledges at least two per cent.
And it is growing.
Since 2004, the number of people taking to the air for cheap holidays has more than doubled, with 4.6 billion passengers expected to fly this year.
Attenborough told the committee that politicians could change the market dynamic.
"Those in power can influence how many flights people take, and that is economically – you adjust the price to the restrictions you want," he said.
"I don't know how you restrict it other than economically."
Poor grounded
His push came as France announced it would be introducing a tax of up to 18 euros (A$30) per passenger flight from 2020, to help combat climate change.
Asked if it would hurt the less well off who were able to now afford air travel, Attenborough acknowledged the inequality.
"I am afraid that is the case," he said.
But IPA director of policy Gideon Rozner condemned the suggestion.
'More evidence of the sneering elitism of the climate change lobby.'
"This is yet more evidence of the sneering elitism of the climate change lobby," he told 7NEWS.com.au
Rozner said even "people of modest means" could now travel overseas or interstate to see family or friends.
Making air travel more expensive would not stop the wealthy from flying, he said.
"The idea of deliberately depriving many people the benefits of air travel is not only out of touch, it is positively mean spirited.
"This is just another example of the wealthy pushing for action on climate, while working people suffer the financial cost," he said.
Leaders lacking
Attenborough also accused Australian politicians of being unconvinced of the need to act on climate change.
"There are people who are in power internationally notably in the US but also in Australia, which is extraordinary because Australia is already dealing with the most extreme manifestations of climate change," he said.
"In both Australia and America, those voices are clearly heard."
Climate Council chief executive Amanda McKenzie told 7NEWS.com.au air travel is one of the "fastest-growing" contributors to Australia's carbon emissions.
But she said it was a "vexed issue" because there was no ready alternative to aviation fuel and we should be looking at other sectors of the economy – such as moving away from coal.
'It is significant he singled out Australia.'
"There are few people who are more experienced than David Attenborough in seeing the effects of climate change around the world and it is significant that he singled out Australia," she said.
"With something like aviation we don't have the solution, but if we do keep burning coal we will have to make much more disruptive transitions."