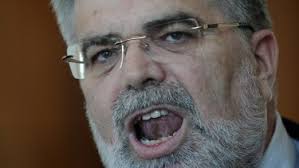 10.10.19.
Victorian Labor Senator Kim Carr, the Senate's loud-mouthed trumpet always yelling above the din in disruptive manner has got one thing right when he said,
"Declining public trust in government and democratic institutions is putting the future of democracy at risk."
The remainder of his socialist far Left ramblings is typical of his political career—hot air and much noise. Kim Carr is one of the main reasons for voter distrust and hateful attitudes toward politicians. That, he can't see!
Declining public trust in government and democratic institutions is putting the future of democracy at risk, the chair of an inquiry into Australian nationhood and national identity has warned. Victorian Labor senator Kim Carr, from the Socialist Left, says there is an urgent need to examine modern notions of the nation state, social cohesion and the balance between meeting international obligations and fulfilling domestic political objectives
.
Source: 
Joe Kelly, News Corp
Hateful politics killing Western democracy, says Kim Carr
Senator Carr argues the centre ground in politics is being fractured in the West and points to the Brexit debate and the rise of Donald Trump as key global examples of a disturbing trend in which resurgent nationalism and populism threatens to reshape politics.
"The question is: can democracy be saved?" Senator Carr said. "I think it's that serious.
"What is happening is that the political centre is being hollowed out as the result of what I call rabid nationalism and those that see their political fortunes being advanced by undermining conventional attitudes towards political institutions, including the UN and things that we have come to accept, like human rights conventions. There is an increasing number of people who believe the political and economic system does not work for them. And so the question arises, what can be done about it? I'm of the view it's not something that can be resolved by some quick-fix."
Free-market think tank the Institute of Public Affairs used its submission to the Legal and Constitutional Affairs References Committee to argue that nation states were playing a greater role in securing basic freedoms for individuals, despite their interests becoming more integrated through international institutions.
Launching a Trump-style defence of the nation state, IPA research fellow Andrew Bushnell told The Australian the parliamentary inquiry was a chance to remind the political class of the "values and customs that have made this country great".
"Political developments here and abroad in recent years are a reminder that the nation-state remains the world's primary political institution. The public expect the state will represent their values and their understandings of national identity and national history," he said.
Focus on the nation state comes after Scott Morrison sounded the alarm on "negative globalism" in an address to the Lowy Institute last week in which he pushed back at attempts by supranational bodies to override the electoral mandates of sovereign nations.
"We should avoid any reflex towards a negative globalism that coercively seeks to impose a mandate from an often ill-defined borderless global community. And worse still, an unaccountable internationalist bureaucracy," Mr Morrison said.
Senator Carr said he believed Mr Trump had "completely subverted" and captured the Republican Party in the US by appealing to alienated voters by presenting himself as an anti-Establishment force — highlighting the need for the inquiry. "He is a perfect example of this," he said.
Senator Carr also warned that Brexit was a "really classic example of what is happening to political institutions".
He argued that in broad terms, the vote for social democratic parties had been halved since the 1990s and in Australia, disaffected Labor voters had left the party for radical alternatives such as Clive Palmer and One Nation.
The Legal and Constitutional Affairs References Committee has already received more than 120 submissions with the inquiry's deputy chair, LNP senator Amanda Stoker, also saying the political centre was at risk.
But Senator Stoker offered a different perspective to Senator Carr in identifying key threats to Australian democracy as stemming from the growing popularity of identity politics, new notions of equality and the influence of postmodern thought on the next generation of leaders being promoted through the university system. She said those factors had resulted in the "shaming out of the centre of regular people".
"What I think is common ground for Kim and I is a concern about whether there is a vacation of the centre of politics," she said.
"From my perspective, I'm interested in the role culture plays. I'm interested in the role tech and social media plays in that. And I'm interested in the ways in which our approach to discussing public issues through the frame of identity politics and postmodernism has fed much of the disengagement."
The IPA submission — authored by Mr Bushnell, Daniel Wild and Zachary Gorman — argues that declining public trust in institutions was the result of the "departure of our rulers from Australia's fundamental values" and the undermining of freedom, egalitarianism and localism.