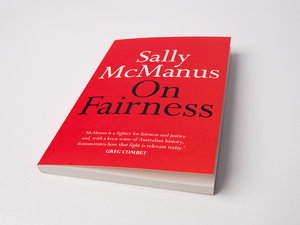 Rule of law: according to union leader McManus
Brad Norington writing in The Weekend Australian offers a rather unhealthy vignette of how life in Australia is likely to be in the event of a Labor win in the federal elections this year. For the prosperity of all Australians, rather than union officials only, a Labor win will see a less than 15% of the nation's workforce with its grubby hands choking the national throat.
Words uttered by Sally McManus on television two years ago, hours after she was confirmed as leader of Australia's union movement, did more than grab headlines. They have come to define her. So it is no surprise McManus begins a polemic, commissioned by Melbourne University Publishing and released this week, by focusing on what she told ABC 7.30 host Leigh Sales on March 15, 2017. Asked whether she'd consider distancing the ACTU from the Construction Forestry Mining and Energy Union, a habitual law-breaker, and whether she believed in the rule of law, McManus said: "Yeah, I believe in the rule of law where the law is fair, when the law is right. But when it's unjust, I don't think there's a problem with breaking it."
Source: News Corp
McManus's blinkers of unfairness blind her to reality
McManus devotes more than a third of MUP's On Fairness to this interview, which introduced her to a national audience.
Two years on, considered reflections from McManus as secretary of the ACTU are instructive when Labor looks set to win the federal election in three months.
Although reduced to representing just 15 per cent of the workforce — and 9 per cent of the private sector, where most people are employed — expectations are high in the McManus camp that Labor with Bill Shorten as PM will rewrite strike laws and others to tip the balance the unions' way.
McManus embraces her "unjust law" remark, expanding on it with stories from the Tolpuddle Martyrs to the Mudginberri meatworkers. The core of her argument is that when union leaders are asked whether they support the "rule of law" they are being "challenged to abandon and condemn our own history" and "the generations of union members who fought and suffered to give us all the living standards we have today".
The ACTU probably needed a live wire like McManus after a couple of bland male predecessors did little to arrest a slide into irrelevance. McManus is passionate, courageous, even fearless. She is also prone to overstatement and being loose with facts, which she can get away with most of the time because who knows the detail?
No one is asking McManus to renounce historical struggles but can she be serious in comparing the push for strengthening a right to strike in Australia with battling apartheid in South Africa, British rule in India and race segregation in the US? It appears she is.
McManus relates how laws are passed not by "principles" but by governments that "can be unjust and unfair". "Our anti-strike laws are one of the many manifestations of this fact," she writes. "Apartheid in South Africa, the dominion of the British Raj over India, and race segregation in the United States of America were entirely 'legal' regimes, and governed by laws that restricted the most basic democratic rights and freedoms." Looks like a comparison. Straight after, McManus adds it's "no coincidence" Nelson Mandela, Mahatma Gandhi and Martin Luther King Jr were unionists as well. This afterthought says something about their values, but their fights for rights were about much broader inequality and dignity denied.
McManus says there is an accepted right to strike in the West, yet there is one in Australia too. Perhaps the conditions for legal strike action could be reviewed in line with international standards, as well as some restrictions on union organising. But no right to strike existed before 1993: it was a convention with some notable cases of punishment for illegal action. When Labor's Paul Keating enshrined the right in law, the downside for unions was that it could not be an unqualified right, and surely McManus knows this.
She skirts over how the Rudd-Gillard Labor government overturned John Howard's Work Choices in 2008 and replaced those laws with ones we still have.
"Our framework of industrial fairness has not recovered," she writes.
Really? Tell that to one of her ACTU predecessors, enlisted to help Julia Gillard finesse the drafting of those laws. Gillard did not think they were "unjust" when introducing them with some fanfare. Nor did Shorten, later, as Gillard's workplace minister.
McManus makes some valid points about living costs exceeding general wage rises even if the inflation rate remains low, and about obscene executive salaries. But she ignores much too, including our comparatively high minimum wage, increased last year by more than the CPI; how big companies cannot escape regulation or shaming for bad behaviour; and how small business, the main area for worker exploitation, was always out of union reach.
Skills shortages will push up wages, but enhancing the right to strike is not likely to do much when union representation is so low, except to boost CFMEU power.
McManus is at odds even with ACTU doyen and former Labor PM Bob Hawke, who deregistered the BLF and has made it clear that his party should shun the CFMEU.
McManus's essay calls for a populist revival of unions when the affluent majority has stopped listening. She blames others for their decline, chiefly big business, the Coalition, the Murdoch press, even Leigh Sales ("how we got to this point can be explained by what happened to me in that black box at the ABC studio").
Meanwhile, she overlooks how Labor was in office for half of the years since union membership stood at 50 per cent. Apparently it was OK for wage growth to slip during the Accord when the social safety net was promoted as compensation, but not now when almost all of it remains.