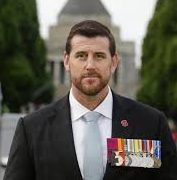 16.06.21.  
Some will call it a challenge to reveal a war criminal. Others view Ben Roberts-Smith a witch-hunt determined to destroy a war hero's reputation. In short, the business of whether or not his girlfriend had an abortion is a long way from allegedly murdering the enemy in a theatre of war—isn't it? You are watching a character assassination in the raw!
Ben Roberts-Smith has told the Federal Court he hired a private investigator to follow a woman to an abortion clinic because he believed she was lying about being pregnant in an effort to prolong their relationship. On the sixth day of the Victoria Cross recipient's high-stakes defamation case against Nine newspapers, he told the court he believed the woman — identified as Person 17 — had lied about being pregnant after he told her that he wanted to "end the relationship" in January 2018.
Source: Kieran Gair, News Corp
Ben Roberts-Smith says mistress lied about abortion
Mr Roberts-Smith told the court he had attempted to end the relationship with Person 17 in January 2018.
However, he told the court he was concerned she would "potentially self-harm" after she sent him a text message, which said: "The world would be better off without her."
Mr Roberts-Smith said he received a subsequent message from the woman's husband after she disappeared for 24 hours. "He said to me, 'I was supposed to look after her and I had stuffed this up," Mr Roberts-Smith said. "I received a message of a similar vein the next day or later that evening."When the woman reappeared, Mr Roberts-Smith said he had a phone conversation with her and told her "people cared about her". But in February 2018, the woman sent Mr Roberts-Smith a text message revealing she was pregnant, and asked if she could see him "face-to-face".
"I called her and we had a conversation," he told the court. "She had a family, I had a family, and we agreed to terminate the pregnancy.""In the end, I think she told me she didn't actually want me to go with her (to the hospital)."Asked by his barrister Bruce McClintock, SC, if he believed she was pregnant, Mr Roberts-Smith said: "No."He told the court he was approached by a private investigator who later filmed the woman as she entered and exited a hospital, following the pair's agreement that she would undergo the abortion."I asked (the investigator) if he would be able to identify whether Person 17 was in fact pregnant," he told the court. "I asked him to find out whether or not she attended the clinic."Upon reviewing the video, Mr Roberts-Smith told the court he thought it was "strange" that she was able to bend over and pick up a bag. "It became evident that she certainly had not had a procedure that day," he said.He said the pair later met up at a hotel room, where he showed her the video, saying she "started to cry" before admitting that she "didn't have the procedure."The former SAS soldier is suing The Sydney Morning Herald, The Age, and The Canberra Times for defamation over reports published in 2018 that alleged he committed murder during deployments to Afghanistan between 2009 and 2012. He denies the allegations and says the reports portray him as a murderous war criminal.He is also suing over reports alleging he assaulted Person 17 in March 2018. The newspapers will defend the defamation claim using the truth defence.Asked by Mr McClintock about his attitude to domestic violence, Mr Roberts-Smith said he believed it was "disgusting", "deplorable" and "highly reprehensible"."I have no tolerance for anyone who would ever raise a hand to a woman," he said.Mr Roberts-Smith said the domestic violence allegation, coupled with "being called a war criminal", had "ruined" his life. "For a long time I found it very difficult to leave the house," he said.In a 60-page statement filed in the Federal Court in 2018, the woman said she and Mr Roberts-Smith were both married during their six-month affair and went to great lengths to keep it a secret.The affair, she said, ended in April 2018, just days after Roberts-Smith "punched me on the left side of my face".The woman is a key witness in the defamation proceedings. Nine has previously said it does not concede that it made the domestic violence claims, but if the court decides otherwise, it can prove the claims are true.Nicholas Owens, SC, told the court last week that the newspapers would tender "significant documentary evidence" about the alleged act of domestic violence perpetrated by Mr Roberts-Smith against person 17.In an affidavit released by the court in 2018, she said that on the night of March 28, Mr Roberts-Smith punched her hard to the left side of the face. The following day, she said, they exchanged messages on Telegram."I spoke to (my husband) and sent him a photo," she wrote. "He reacted exactly how you predicted. I think he believes me but is a bit sceptical."In reply, Mr Roberts-Smith said: "I thought he would, what did you say?' Does he think I did it?""Yeah, he did to begin with & he didn't believe that I'd fall down stairs. I just told him what we talked about."Last week, Mr McClintock said the woman was very drunk and had injured herself when she fell down the stairs."It was a very severe impact to her left temple and to her eye … this was observed … assistance was rendered to her," Mr McClintock said."This allegation of domestic violence … caused my client terrible damage. If anything, it's this allegation that caused him to lose his domestic speaking business."On Tuesday, Mr Roberts-Smith told the court the woman had "completely passed out" and that he was worried she had taken valium before the event.The eight-week defamation hearing started last Monday and Mr Roberts-Smith, 42, is the first witness to give evidence against Nine newspapers and journalists Chris Masters, Nick McKenzie and David Wroe.The hearing continues.