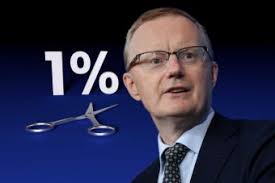 12.09.19.  
"The Reserve Bank has slapped down rich boomers complaining about the impact of low interest rates on their incomes, suggesting only a "single digit" percentage of over 60s rely significantly on interest income, and many of them were well off."
That insulting remark presumably came from the loud mouth of RBA governor Dr Philip Lowe. It might surprise this dope that hard working Australians are really suffering because the RBA has made their life savings all but worthless with a cash rate 0f 1%. Those whom Lowe has insulted will be consoled in the knowledge that the central bank's annual report shows Dr Lowe's total remuneration was $1.02 million in the 2017-18 financial year, including $114,617 in superannuation. Lowe is a total clown—a bloody overpaid and rich one. We can only hope he is doing it tough just like pensioners and self-fundeds trying to live on their 2% term deposits!
Source: Adam Creighton, News Corp
RBA issues interest rates slapdown to rich boomers
"A very small share of households earn more than 20 per cent of household income as interest," the RBA said, pointing out that households have "around twice as much" in debt as deposits, in aggregate.
In a defence of its decision to cut the official interest rates twice in June and July – to a record low of 1 per cent – the RBA said the majority of households who depended on interest income "were in the most wealthy and second most wealthy quintiles".
The statement, released on Wednesday, emerged as part of a series of answers to questions from MPs about the effect of lower interest rates on households, business, and the likelihood the RBA would follow central banks overseas in pursuing 'quantitative easing' — the creation of new money electronically to buy existing assets.
The 17 page statement flagged six extreme policy options the RBA could deploy if the economy deteriorated, including purchase of mortgages and government bonds, lending to banks "at a favourable price", and intervening in foreign exchange markets.
"If circumstances were to warrant it, the board would consider unconventional monetary policy options," the RBA said, stressing they remained "unlikely".
"While it is difficult to rule any specific measure in or out, the focus would likely be on reducing the risk-free interest rate… (which) would involve reducing the cash rate to a very low level and possibly purchasing government securities," the RBA said.
A full one percentage point cut in the official cash rate would lift GDP growth, which has fallen to the lowest level in a decade, by 0.5 to 0.75 percentage points over two years, the statement said.
The RBA defended its flip flop on the likely direction of interest rates last year — from "more likely up" to "more likely down" — and pushed back against claims low interest rates had singlehandedly pushed up house prices. "The strong growth and subsequent reversal in housing prices in Perth over the past decade or so has been unrelated to movements in interest rates," it said.
The government has resisted repeated calls by RBA governor Dr Philip Lowe to increase infrastructure spending to help lift growth. The statement conceded a lack of specialist trades people and engineers made acceleration of infrastructure projects difficult, but the RBA also pointed to "readily available" generalist labourers.
Asked about the impact of lifting the superannuation guarantee to 12 per cent, the RBA tried not to weigh into the politically charged issue.
"Evidence from the past increases suggest wages growth could be affected, but the timing and size of any effect will depend on labour market conditions at the time," it said.
"An ageing population can also imply higher levels of wealth, which would mean the wealth effect of monetary policy is more important today than in the past," it added, referring to the upward impact of lower interest rates on price of assets, which are held largely by older cohorts.