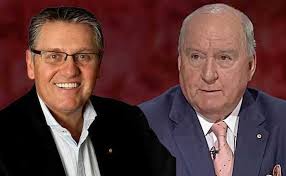 14.08.19.  In this media shakeup brewing conservatives stand to lose as the creeping Left seek to expand, or more like starve out conservative views, via a looming acquisition. Macquarie CEO Adam Lang seems to believe that the two high earners, Jones and Hadley should be shoved out to make way for younger and more left-wing voices.
One of Nine's most powerful radio hosts has told his bosses he will remain "more Daily Telegraph than The Sydney Morning Herald'' in a defiant stance after the media group moved to buy out the talkback network. Macquarie Radio host Ray Hadley says Nine Entertainment would not risk "ruining our business" by forcing hosts to use content and talent from its new parent company following the full takeover of the radio network.
Source: Leo Shanahan, News Corp
Ray Hadley won't be moving to the Left
The radio network's staff are now expecting further integration in news and advertising with Nine as a result of the takeover.
Nine Entertainment Co made its long-expected offer to buy the rest of Macquarie Media yesterday in a $275 million bid for the remaining 45.5 per cent of the radio network it doesn't own.
Ad boss John Singleton is set to pocket around $81m from his 32.4 per cent stake in Macquarie, which owns stations 2GB, 3AW, 4BC and 6PR, and is home to star hosts Alan Jones and Hadley.
The Australian understands there has also been a push under Macquarie CEO Adam Lang for the stable of stations to move away from conservative political commentators to younger and more left-wing voices.
The No 1 rating Sydney station, 2GB, has lately been wracked by internal feuds following a failed attempt to remove Jones and replace him with Hadley on the breakfast show, setting off a chain of events that led to the angry resignation of long-serving host Chris Smith.
The station also recently reported poor results, booking an 18.7 per cent drop in annual underlying profit, hurt by legal costs following a record-breaking defamation case brought against Jones.
Insiders at Macquarie Media had been concerned it would be forced to rely on Nine newspapers, which include The Sydney Morning Herald and The Age, for news and content to allow Nine to extract better value out of the deal.
Macquarie also recently announced numerous Nine personalities will join Steve Price's new afternoon show, including Karl Stefanovic, Deb Knight and sports commentators Erin Molan and Phil Gould.
Hadley, who hosts 2GB in Sydney and Brisbane's 4BC, told The Australian he "could not see ­anything changing" in the format and content on his Macquarie show, which has classically relied on News Corp (publisher of The Australian) newspapers and journalists more than Nine.
"Even when Fairfax were the major shareholder I would say my show is more like The Daily Telegraph than the SMH and it will always be that way."
He said he "couldn't imagine why Nine would mess with a winning formula" and would not risk "ruining the business".
"I write a column for The Daily Telegraph, I have a very good relationship with people at News Corp," Hadley said.
"This morning there was a great story on your front page (The Australian) about Ian Hindmarsh the farmer. We spoke about that and as a result I will speak to him this week.
"Nine are not acquiring us because they want to ruin our business. They want to make it a success and I'm sure Alan (Jones) is of the same intent."
Jones — who is a minority shareholder in Macquarie — has declined to comment on the offer.
Both Jones and Hadley have contracts with News Corp.
Jones has a contract with Seven and Sky news and Hadley a separate deal with Nine for NRL commentary.
Newsrooms for the two companies are also likely to merge, with the possibility reporters with experience in both radio and television are able to file news stories for both.
Staff are concerned about further redundancies.