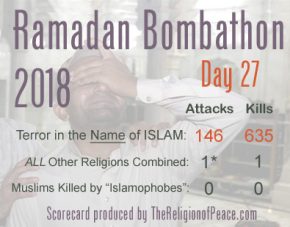 Ramadan ending,
Let the killings slow down
How's Ramadan going for the rest of the world?
It finishes tomorrow but caution is required as, at the end, a devout Muslim may feel that he hasn't done enough and raid the kitchen drawer for a sharp knife.
Up to three days ago the score was 684 murdered by Muslims, the Islamophobes haven't killed anyone. Score 684 to 0.
The biggest hit was in Afghanistan where the Taliban, hit three security checkposts in co-ordinated attacks and murdered 25 Muslim cops at one go.
The figures are hard to take in – 684 murders. Let's look at just one.
A manual of Islamic law certified as a reliable by Cairo's Al-Azhar University, says that "retaliation is obligatory against anyone who kills a human being purely intentionally and without right." However, "not subject to retaliation" is "a father or mother, or their fathers or mothers for killing their offspring, or offspring's offspring." ('Umdat al-Salik o1.1-2).
Here's how one incident played out in India.
Source: UK Daily Mail.
A father has admitted cutting his four-year-old daughter's throat as a sacrificial offering to God during Ramadan, Indian media have reported.
Nawab Ali Qureshi, 26, is said to have murdered young Rizwana on Friday after reciting verses from the Koran.
Police said the father told them he had taken his daughter to a market to buy her sweets before telling her he loved her very much
Nawab Ali Qureshi, 26, is said to have murdered young Rizwana on Friday after reciting verses from the Koran
But Qureshi, who runs a meat shop, allegedly admitted slaying Rizwana after his wife filed a murder report, the Times of India reported.
According to the Indian Express, he added: 'I am a devout Muslim and love my daughter more than my life.
'For several days she was at her grandmother's place and returned on Thursday. I took her to the marketplace and bought sweetmeats and fruits.
Police said the man's wife, Shabana, found her daughter's lifeless body at about 3am after the killing.
'In the night I took her to the courtyard downstairs, recited a kalima, killed her, and then went back to sleep upstairs.'
He also reportedly said: 'I had to offer my most prized possession to Allah.'
Qureshi said the devil had entered him, police explained.