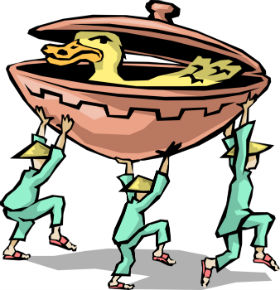 21.05.20.
With her political fate to be decided in a few months at the polls, Annastacia Palaszczuk has rolled the dice. Keeping Queensland's borders closed based solely on the coronavirus subject will produce one of two things. If COVID-19 fails to support a nasty second run the PalaceDuck will be top of the Christmas tree. If not, the state will be totally ruined and the duck will have its neck wrung and served up as Peking Duck—in Siberia!
Tourism industry 'won't survive' border closures
Australia's two most populous states are set to remain effectively isolated from the rest of the country for months as premiers from the smaller states insist they will not be bullied into relaxing border closures, despite advice from medical experts and federal officials that interstate travel poses no health risks.
Source: Craig Johnstone, News Corp
The standoff over the future of state and territory border closures has widened a rift between Australia's federal health officers, who say there is no medical reason to continue the border shutdown, and their state counterparts, who fear the virus spreading from the nation's two largest states.
It has also escalated bickering between state and territory leaders as tensions increase between beating COVID-19's threat to Australian lives and minimising the devastating impact on livelihoods.
There are mounting fears that some parts of Australia's tourism industry — already suffering deep job cuts and plunging revenue — will not survive a long period of ­interstate travel bans.
However, Queensland Premier Annastacia Palaszczuk remained unmoved, saying the closure of her state's borders would continue because she always put Queenslanders' lives first.