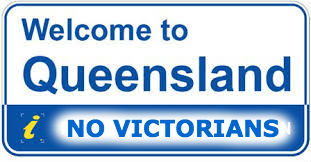 01.07.20.
Queensland's premier PalaceDuck decided to roll the political dice on border closures. The decimation of business and the enormous pressure from politicians around Australia, including the PM Scott Morrison, has finally brought the silly woman with her cat and mouse games to her senses—for now! There is still time for southerners to make the dash to warmer climes, this editor for one, will pack up and do the annual exodus north. However, Victorians are not welcome in Queensland and the rules if broken are expensive. Ms Duck has already named her 'fall guys' should Queensland come alive with the virus. The elections are in October.
As Queensland's Premier reopened her state's borders she also opened up with an attack on her critics, including the Prime Minister: she is sick of Queensland being 'singled out'. She accused Scott Morrison of allowing "border wars'' to erupt between Australia's states and territories over the easing of COVID-19 restrictions. Queensland will reopen its borders to residents of all of Australia's states and territories with the exception of Victoria.
Source: Michael McKenna, News Corp
Coronavirus Australia: Queensland opens borders, bans Victoria; Palaszczuk lashes PM and border war critics
Ms Palaszczuk's much-anticipated announcement honoured her commitment to reopening on July 10, but, spooked by the coronavirus crisis in Victoria, kept the doors tightly shut to residents of that state —- who must quarantine if they want enter.
And she had a message for her critics — including the PM.
Ms Palaszczuk said she held "big concerns'' about the recent outbreak of community transmitted cases of coronavirus in Victoria and would impose tougher measures on people arriving from that state.
Under the new measures, anyone arriving at the Queensland border from Victoria will have to agree to quarantine in a hotel for two weeks at their own cost.
Travellers from the rest of Australia will be allowed entry into Queensland from July 10 but only after they have completed a declaration form.
That form will require people to declare their prior movements, including whether they have been in Victoria in the past two weeks. A $4000 fine will apply if a person is found to have lied on the form.
Among other restrictions to be relaxed this Friday, a week earlier than originally planned, will be the lifting of the 20 person limit at bars and pubs and the removal of the ban on contact sports.
In recent weeks, Ms Palaszczuk has come under attack by the state opposition, NSW Premier Gladys Berejiklian and Prime Minister Scott Morrison over her refusal to lift Queensland's border shutdown.
'Border wars have got to stop'
Asked about Mr Morrison's criticism and if he could have done more to keep Victoria's cases under control, Ms Palaszczuk said the prime minister was wrong to single out her state's tough stance against the virus.
"For a start these border wars have got to stop, a national leader should have been able to bring all of the states and territories together,'' she said.
"I am a bit sick that Queensland has been signalled out as opposed to South Australia and Tasmania, just name a few.
"And, perhaps if Victoria had been almost self-quarantined or quarantined, then the prime minister could have set a date for all the other states and territories (to open) once Victoria was under control.
"At the moment, what we have is a bit of a confrontation, where fights are being picked at different states.
"And Frankly, I don't think it is good enough.
"I have been silent for a long time and I will not be silenced for standing up for what I believe is right or for the health advice that I am being provided."
Ms Palaszczuk said that by following the health advice, Queensland was now "in a good position" and could ease restrictions.
Eased restrictions
Under the easing of restrictions, the 20 person limit at bars and pubs will be lifted, so long as there is enough space for one person per four metre squared.
The limit on weddings, funerals and private gatherings will be raised to 100 people and contact sports will be allowed.
Stadiums will also be allowed to accommodate half of their capacity or up to 25,000 people.
Ms Palaszczuk — who also brought forward the planned lifting of restrictions at bars and a ban on sports – said held "big concerns'' about the
"Due to the current community transmission levels, the border with Victoria will remain closed and will be strengthened,'' she said.
"Anyone who has travelled from Victoria, including Queenslanders, will be prevented from entering or will have to quarantine at a hotel at their own expense for two weeks.
"We just can't risk removing border restrictions for people coming from areas of Victoria right now.
"I hope Queenslanders understand why I am saying that.''
Queensland reported no new cases overnight, meaning the state's total remains at 1067, with just two active cases.
"We know we've got a long way to go. But we have been able to open up Queensland faster.
"I just want to share this with you, this is really important, because the total benefit of our internal restrictions being eased, that's stages 1, 2 and 3, is worth about $1.82 billion a month and is under 167,000 jobs.
"Now, that's a lot of people that are able to get back into work, into Queensland, and get the economy going in Queensland faster because of the health response that we have had here.
SA scraps plans to open border
It came as South Australia scrapped plans to open its border next month, and NSW demanded lockdowns for Melbourne suburbs, but drew the line at closing its border to Victoria.
NSW Premier Gladys Berejiklian resisted calls to close the Victorian border, but says NSW has to "be prepared" for another outbreak.
Ms Berejiklian said she was keeping a "close watch" on the rate of community transmission in Victoria, but implored people to remain vigilant.
NSW Health Minister Brad Hazzard said he'd "made it clear" that he would like to see Melbourne hotspot suburbs put into lockdown.