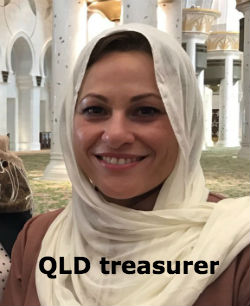 Queensland: in the clutches of profligates
Premier Palaceduck and her Treasurer Jackie Trad are now reminding people just how bad government under Labor can get. Labor governments do it every time—stack the public service with non essential workers—meaning Labor voters. Never before has Australia had such a bunch of incompetents at the helm. They do not govern for progress because they din't know how. They do work tirelessly for re-election only. The Editor just travelled sealed roads through Queensland and wondered why so few trucks were seen. The roads are breaking their trucks. They spend more to clutter main routes. I will do the same in future. Now enjoy this $1 billion vote grabber.
Queenslanders will be slugged ­almost $1 billion more for public service wages over the next year as the state locks in record spending on health and education, jeopardising the state's already battered credit rating.
Source: News Corp
Queensland budget: Jackie Trad hands taxpayers $1bn jobs bill
In her first budget, Queensland Treasurer Jackie Trad revealed taxpayers paid $3.3bn to service the state's debts this year and she pledged to drive borrowings even higher, despite a $3.7bn coal royalties windfall, forecasting debt to hit $83bn in four years.
The public payroll will grow by more than 3800 full-time positions next year, despite Ms Trad revealing more than 40 per cent of public service jobs created by the Palaszczuk government had not been frontline positions.
Although Labor had hoped to regain the state's AAA credit rating, lost by the Bligh government in 2009, ratings agency Moody's warned that the gap ­between projected spending and declining revenues would challenge the state's credit profile. Moody's said projected ­average revenue of 1.7 per cent was "largely underpinned" by an expected burst in the budget's final year, when the Turnbull government has promised to deliver new infrastructure spending.
Ms Trad, who presented no clear plan to tackle the debt, insisted it was needed to build essential infrastructure such as roads, a second Brisbane River railway crossing and a new rugby league stadium for Townsville.
"We make no apologies for borrowing to invest in infrastructure. It's the right thing for jobs today but it's also critical for our economic productivity in the future," she said, blaming the Turnbull government for not bringing forward its promised spending.
Ms Trad said the debt would be paid down with future budget surpluses, but Treasury projected surpluses totalling only $1.1bn over the next four years.
"We need to ensure that we are conservative in our forecasts, but ambitious in our strategy, and that's what we intend to do," she said, insisting she was exercising fiscal discipline and had turned down numerous ministers' spending proposals.
Strong demand for Queensland coal spurred an impressive 3.7 per cent boost to revenue this year — compared with 6.3 per cent growth in spending and 7.4 per cent growth in state employee ­expenses. However, revenues are expected to fall by 0.9 per cent next year, when Ms Trad intends to roll out the biggest public works scheme since Anna Bligh's Labor government rebuilt state infrastructure following the 2011 floods.
The budget included four significant new taxes targeting gamblers, owners of expensive property, luxury car buyers and foreign investors — all of which were flagged at the last election — plus a levy on garbage dumped in Queensland.
Moody's warned that the projected annual revenue growth of 1.7 per cent was "expected to fall below the average expenditure growth of 2.1 per cent". "This would lead to growth in debt over the forecast period, challenging the state's credit profile," it said, maintaining a "stable outlook" ahead of further analysis.
Ms Trad said: "The ratings agencies aren't very concerned about whether we borrow for productive infrastructure. They are interested in our recurrent expenses so we have that conversation with them."
Liberal National leader Deb Frecklington said the debt "black hole" had swallowed Queensland's coal royalties windfall.
"The record debt means funds that could be going to our schools, hospitals or frontline services will instead be sucked into feeding Labor's binge on debt," she said. "This is a budget of broken dreams and broken promises for the next generation."
Federal Resources Minister Matt Canavan accused Ms Trad of snubbing coal in her budget speech despite relying on mining royalties to deliver record spending. "The Labor Party is once again demonstrating that it knows how to spend money but not earn money. To maintain public services, we need a strong economy and a strong mining sector," he said.
About two-thirds of total infrastructure spending next year will be allocated outside Brisbane, including $534.3m to continue the Toowoomba Second Range Crossing project and $176m towards Rockhampton's Rookwood Weir scheme.
The government recommitted to fully fund the $5.4bn Cross-River Rail scheme, although Bill Shorten has pledged $2.2bn should he win power in Canberra. Health spending is projected to rise four times the rate of population growth to $17.3bn this year, plus $985m in capital investment in health facilities. Ms Trad also announced $330m over five years to conserve the Great Barrier Reef.