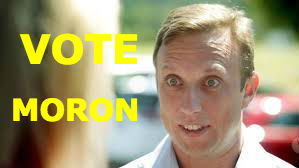 21.09.21.  
As the great John McEnroe often said, "you can't be serious!" Queensland deputy premier Steven Miles has used his considerable media platform to assume the unofficial role of the Queensland government's attack dog on everyone from Scott Morrison to Josh Frydenberg, Peter Dutton and even Donald Trump. But now, even some of Miles' greatest allies in the union movement where he made his name are worried his regular TV attacks on rivals around the country are damaging his standing with mainstream voters.
Diary has received reliable word Queensland's top unionist and the pivotal backer behind Miles's entry into politics, United Voice state secretary Gary 'Blocker' Bullock, commissioned secret high-level polling to establish exactly what voters think of his protégé.
Source: Nick Tabakoff, NCA
The secret union poll driving Steven Miles
The danger Bullock and fellow unionists see is the high-profile attacks, which have seen Miles pilloried both inside and outside of Queensland, could damage his long-term chances of becoming the next premier after Annastacia Palaszczuk.
In essence, we're told Bullock has been asking one critical question: is Miles's attack dog persona hurting his chances of being Palaszczuk's successor?
At this point, Diary hears the answer to that question is a resounding yes.
The word is Bullock, effectively the chief puppet-master behind putting his protégé into parliament from his previous days as a union official, is concerned Miles (the bookies' favourite to be Palaszczuk's eventual successor) is vulnerable to internal party machinations that could spoil his long-term prospects. Bullock is said to be concerned after the research that Queenslanders see Miles as juvenile, and may not take him seriously.
The concern follows such pratfalls by Miles as using the C-word to describe the PM and his unsolicited advice to Trump to "try intravenous disinfectant" to cure Covid-19. (Miles has since claimed his colourful description of Morrison was the result of a "stutter").
Diary hears Bullock's main concern is the threat to Miles's prospects of Treasurer Cameron Dick, who is from the Queensland Labor Party's Right faction (Miles is from the Left). The big worry is Dick could do a Stephen Bradbury on the eventual succession of Palaszczuk, if Miles the attack dog continues to skate on thin ice with constituents.
As a result, Queenslanders can expect a more relatable Miles to work hard to dial up his likability factor, and dial down his attack mode, in coming weeks and months.
Video source: May 2021