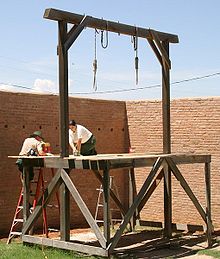 14.09.19.  
How a succession of Australian politicians have viewed the task of drought proofing the nation. It's a heading on the parliamentary perks list on 'how to get re-elected'. Is that a scaffold being erected outside Parliament House?
"Dams be damned! It will rain one day and plenty of it. Dams take longer to build than a term in office. Dams are expensive. That will be noticed in your term of office. Don't risk your luxury retirement package on such folly."
The Queensland government will spend $800,000 a month trucking water into the parched and bushfire-ravaged town of Stanthorpe, which is forecast to run out of drinking water by December. Premier Annastacia Palaszczuk said the cash would pay for 34 truckloads of water a day to be carted an hour's south from Connolly Dam, in Warwick in south-west Queensland, to Stanthorpe's Storm King Dam.
Source: News Corp
Dry by December: $800,000 a month to slake Stanthorpe's thirst
Winegrowers, farmers, and residents in the Granite Belt towns of Stanthorpe and Applethorpe were evacuated as the bushfires burnt through more than 4000 hectares over several days last week. Crops and homes were destroyed.
The government had already promised to replace water from Stanthorpe's depleted dam after some had to be taken out to fight the fires.
On Friday, Ms Palaszczuk said Stanthorpe faced a "massive shortage" of drinking water and was expected to run out of water by December.
"Unfortunately, there's no rain at present and there's no rain on the horizon," she said.
"First of all, we'll provide $2.4m for the infrastructure that is needed for the carting of the water here in Stanthorpe. Secondly, my government will provide $800,000 a month, some 34 trucks a day will be needed to cart water. I don't want this community to be under any more stress, and that will be provided until it rains."
Mayor Tracy Dobie said her community was extremely grateful for the emergency water.
"We are so grateful to the Queensland government for providing the support now at a time when our residents are so badly impacted by this drought, and now with the impact of these bushfires," Ms Dobie said.
But she said firefighters had to draw "very little water" from Storm King Dam to fight the blazes, because they used a creek that ran through town and also pre-positioned water tankers in town ahead of the fires.
Ms Palaszczuk's announcement comes as Prime Minister Scott Morrison flew to Canungra, in the Gold Coast hinterland, to meet firefighters and residents who had lost their homes.
Mr Morrison said people who had lost their jobs or were getting fewer shifts because businesses had been affected by the bushfires would be eligible for a 'disaster recovery allowance' for 13 weeks, equivalent to the maximum rate of Newstart.
Queensland Police Commissioner Katarina Carroll said fire conditions would again get worse in the state, after a couple of days' respite.
"We will not put a lot of these fires out unless we get a lot of rain, and there's no rain in sight. That's the difficulty we have," she said.