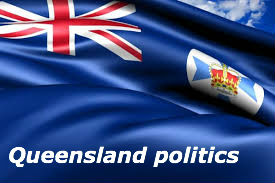 02.08.19.  Jamie Walker writes: Annastacia Palaszczuk is the woman Labor likes to promote as everyone's favourite aunt in Queensland. For the past eight years, she has been the best thing — perhaps the only thing — the state ALP had going for it. On paper, Deb Frecklington is the ideal alternative to the popular Premier. The Liberal National Party leader hails from the late Joh Bjelke-Petersen's hometown northwest of Brisbane but speaks the language of a city-trained lawyer. Married with three children, smart and hardworking, she has nevertheless struggled to gain the confidence of her own party, let alone the nation's most volatile electorate. As Friday's Newspoll showed, the contest between them is a study in fierce contrasts and is way, way too close to call — fitting billing for an October 31 state ­election that is as momentous as they come.
Source: Jamie Walker, News Corp
Gloves, and jackets, off in epic Queensland election duel
Not only is this the first time in Australian political history that rival female leaders will go head to head for high office at the state or federal levels, it ushers in a new era of governance as Queensland shifts to a fixed four-year parliamentary term, in line with the rest of the states. If Palaszczuk wins, she will join a select club of three-term premiers, right up there in the Labor pantheon with the likes of Wayne Goss, Peter Beattie (who went one better to ­secure a fourth go), Bob Carr and Steve Bracks.
The pressure is on Frecklington to end the state conservatives' hoodoo, one that makes Queensland a fortress for the Coalition federally but a tale of disappointment a level down for the Liberal and National partners.
Their merger in Queensland under the LNP banner 12 years ago was solely to win state elections. Campbell Newman did so in 2012 but then blew a monster opportunity in office and was shown the door by Palaszczuk barely three years later.
Rob Borbidge got most of a term for his Nationals-led government between 1996 and 1998 after Goss's reformist outfit fell apart, albeit unbeaten at an election. Then came Beattie, Anna Bligh and the resumption of business as usual under Palaszczuk, putting the ALP in power in Queensland for 25 of the past 30 years.
Make no mistake: if Frecklington fails to deliver for the LNP this time around, the party's continued existence will be called into sharp question. Newspoll shows there is a path for her to win, but it is littered with obstacles, just as Scott Morrison's was before Queensland delivered for the PM at last year's boilover federal election. Newspoll gives the LNP a narrow lead of 51-49 over Queensland Labor on the two-party ­preferred vote, expressing the ­expected flow of preferences.
The ALP's primary vote is on the floor at 34 per cent, down on what it received when the government was returned three years ago with a two-seat majority, while the LNP's share has risen 4.3 points to 38 per cent.
Still, there is daylight between the leaders' respective personal numbers: 64 per cent are satisfied with Palaszczuk's performance, according to Newspoll, against 34 per cent for Frecklington, whose net approval rating is negative. On the key determinant of better premier, Palaszczuk's 57 per cent showing is more than twice her opponent's 26 per cent.
This underscores the paradox of the politics. Palaszczuk will enter the campaign as the well-liked leader of an unloved government, while Frecklington's evident unpopularity with voters undermines the capacity of the LNP to capitalise on Labor's pre-COVID-19 performance woes.
The government had problems getting so much as the trains to run on time. State debt was on track to hit an eye-watering $91bn before coronavirus forced Labor to borrow even more, and the Premier was said to be under the thumb of her powerful former deputy Jackie Trad, head of the dominant Left faction.
Meanwhile, the state's unemployment rate was stubbornly pegged at a percentage point above the national average.
Yet if Frecklington had difficulty cutting through then, imagine the challenge now that the coronavirus owns the agenda. Palaszczuk's handling of the pandemic has been sure and effective, reflected in Newspoll's finding that 81 per cent of Queenslanders credit her for a job well done to date. COVID-19 will be the wildcard of the election campaign.
Until this week's quarantine breach involving three young women who returned to Brisbane from an illegal visit to Melbourne with two of them infected, the state had no known cases of community transmission. Regional centres such as Townsville and Mackay remained untouched.
So far, the public seems onside with Palaszczuk's decision to keep the border closed to locked-down Victorians and, as of Saturday, ­another five million residents of Greater Sydney. The tourism industry and businesses more generally are alarmed by the hit to the state economy, concern echoed by Frecklington, who wanted the timetable to reopen the border fast-tracked. That was until the Victorian wave crashed down. She now says the LNP accepts medical advice to the government to partially shut the crossings.
But the dial will swing dramatically against Palaszczuk should the virus take hold north of the Tweed. The uncertainty underpins her political battle with Frecklington. Labor goes to the polls with 48 of the 93 seats up for grabs in the one-chamber parliament, a small but useful buffer in the likely event of a hung result.
The LNP, on 38 seats, needs a net gain of nine to govern in its own right. On the raw Newspoll numbers it could win up to six seats off Labor. Assuming the LNP lost none of its own — a heroic premise — Frecklington would have to seek crossbench support to form a minority government. The possible permutations are mind-numbing, but the LNP's most likely partners would be ­Katter's Australian Party which ­currently has three state MPs led by Robbie Katter, son of the eponymous Bob Katter, Noosa ­independent Sandy Bolton, should she be returned and, at a stretch, One Nation.
Robbie Katter tells Inquirer that people should not assume the KAP would automatically back the LNP, despite his bitter falling out with Palaszczuk when she cut its funded staff in retaliation for racist outbursts in 2018 by then Katter Party senator Fraser Anning. "Sure you have emotional sentiments — you'd be a fool if you said you did not — but they are far exceeded by the will for us to get outcomes for rural and regional Queensland," he says.
Katter will have a wishlist ready to go of pet initiatives, ranging from increasing the mandated ethanol content of petrol to new dams and a second 200km rail freight line for the emergent Galilee coalfield in central west Queensland. Whichever major party ticks off on them will get KAP's support if the next parliament is hung, Katter insists.
Pauline Hanson's righthand man, James Ashby, says One Nation's record in the upper houses of the WA and NSW parliaments as well in Canberra shows it can work constructively with both Labor and Liberal governments. While Newspoll shows its support statewide has slipped to 11 per cent statewide, down from 13.7 per cent at the 2017 state election to deliver just one seat, the Hanson party will be in the frame in many rural and regional contests and its preferences could sway outcomes in Brisbane seats as well, as they did to the detriment of the LNP three years ago.
"I know we would be able to work a lot more in step with a conservative-forged majority-held coalition of some sort," Ashby says. "But that needs to be looked at following the election. You can't get ahead of yourself."
Labor, of course, would never deal with One Nation. If needs be it will look left to the Greens party, which is coming off a strong showing at the March Brisbane City Council election in the inner-city wards. The Greens broke into state parliament in 2017 and are a chance to knock off Trad in her seat of South Brisbane, thanks in part to the LNP, which will preference them above Labor there.
Both major parties will take something out of the election scene-setting Newspoll. For the Queensland ALP, it will be that its key asset, Palaszczuk's popularity, is intact. This will be tempered by disappointment that her COVID bounce was not more pronounced. The LNP outpointed Labor in a June 7 YouGov poll for Brisbane's Sunday Mail, 52-48 per cent two-party preferred, and there was an expectation among the pundits that Palaszczuk's hard line on the border and Queensland's low case burden would turn the numbers around in Labor's favour. If the voters have anything except coronavirus on their mind, it's a worry for a government seeking a third go on an otherwise modest record of achievement.
At the same time, Frecklington's shaky leadership of the LNP will be bolstered by the Newspoll. She stared down a backroom revolt in June after damaging internal polling was leaked by her enemies in the party machine, pitching her into open confrontation with LNP president Dave Hutchinson who announced on Friday he was quitting the post. The push to replace her with former Newman government minister and Gold Coast-based tourism spokesman David Crisafulli went nowhere after the party room closed ranks behind her and Crisafulli declared he would not challenge.
Newman points out, somewhat unhelpfully for his successor, that the federal Coalition's two-party preferred vote in Queensland is a whopping 58 per cent to 42 per cent for Labor. "It's a concern that the LNP state team are where they are," the former premier says. Yet whatever doubt lingers about Frecklington's capacity to win, it's too late for the party to change horses now. History beckons.
Unfortunately for the LNP leader, it is not on her side. There have been 47 mainland state elections over the life of this newspaper's signature Newspoll and on only 14 occasions has a leader ­behind on the better premier measure within three months of polling day gone on to prevail.
The biggest deficit was overcome by Steve Bracks in Victoria, who trailed then premier Jeff Kennett by 32 points before posting a stunning victory at the 1999 state election. In Queensland, the honours go to Beattie, who came to minority power in 1998 at the ­expense of Borbidge when the ­Nationals' premier was 11 points ahead of him in the preferred premier stakes.
Frecklington is 31 points adrift of Palaszczuk. Hold on to your hats, because it will be some ride to October 31.