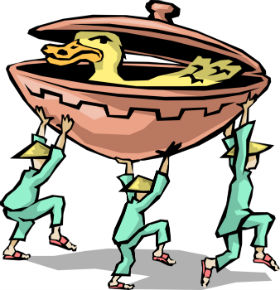 31.07.19.  
The voters of Victoria and Queensland might be waking up to the harsh reality that Labor couldn't run a bloody chook raffle. Dangerous Dan in Victoriastan is knocking off his voters in fine style. Earlier this week Andrews' Chief Health Officer Brett Sutton said his
modelling
of COVID-19 suggested, "today should be the peak" in terms of case numbers." This poor bastard Sutton and his equally silly Deputy Health Officer, Annalise van Demon, the ratbag that said James Cook was worse than COVID-19, should be shown the door now that Victoria's virus case load has broken an all time record with more than 723. Newspoll today has the Queensland Premier Annastacia PalaceDuck on her downhill run as business operators count their huge losses.
Queensland Premier Annastacia Palaszczuk has failed to translate sky-high approval of her handling of COVID-19 into election-­winning support for the Labor government, with Newspoll putting­ the Liberal National Party on track for a narrow victory on October 31. The LNP has lifted its primary vote by four points on the 2017 poll result to head off Labor 51-49 per cent after preferences.
Source: Jamie Walker, News Corp
Popular Queensland Premier Annastacia Palaszczuk but poll party postponed
This is despite Ms Palaszczuk securing the approval of 81 per cent of voters for the job she has done to date to contain corona­virus in Queensland.
The challenge for the LNP to win the nine extra seats required for majority government remains daunting, pointing to the likelihood of a hung parliament.
On Newspoll's numbers, only six Labor seats would fall to the conservatives, leaving them to stitch together a minority administration with Katter's Australian Party, independents and possibly One Nation.
A rising Greens vote, up two points from the 2017 election to 12 per cent, suggests Ms Palasz­czuk would look to the left if Labor fell short of the required 47 seats to govern in its own right.
The Australian's exclusive Newspoll will ease the immediate pressure on embattled Opposition Leader Deb Frecklington amid interna­l LNP rumblings about her cut-through, though she remains deeply in Ms Palaszczuk's shadow in terms of popularity.
Sixty-four per cent of voters are satisfied with the performance of the two-term Premier, against 34 per cent for Ms Frecklington. Unlike Ms Palaszczuk, the LNP leader has a net negative approval rating, with 42 per cent unhappy with her.
On the key determinant of better­ premier, Ms Palaszczuk's 57 per cent showing is more than twice that of Ms Frecklington, who is trailing badly on 26 per cent. Seventeen per cent of voters remain undecided.
The Newspoll is published as Ms Palaszczuk, who weathered criticism from some businesses and the opposition over her caution­ in reopening the borders earlier this month, said she "was unapologetic" about the latest restriction­s on interstate travellers to Queensland.
On Wednesday, she extended restrictions on Victorians to those from the "hotspot" of Greater Sydney, forcing travellers into 14-day, self-funded hotel quarantine.
It was announced ahead of the detection of the first community-transmitted COVID case in Queensland since May, linked to two young women — who also tested positive — who returned to the state on July 21, allegedly lying about a visit to Victoria.
While Ms Palaszczuk conced­ed the lockdown to Sydneysiders would have an immediate impact on tourism, she said it was a necessary precaution.
"I'm sorry if there are some cancellations, but Queenslanders can support Queenslanders ­during this time,'' Ms Palaszczuk said.
"I'm not making any apologies for making sure that Greater ­Sydney is now a COVID hotspot."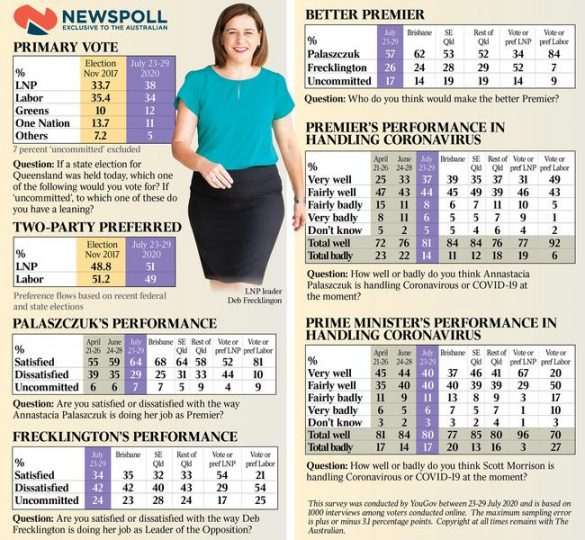 Despite the poor personal ­results for Ms Frecklington, the LNP will be relieved that it is in the frontrunning position fewer than 100 days out from one of the most momentous polling days in Queensland political history.
To the winner goes a four-year set term, up from the existing three-year cycle, bringing the Sunshine State into line with other state jurisdictions.
If Ms Palaszczuk is returned she will equal the record of her hero, the late 1990s reformer Wayne Goss, with three election victories.
Should Ms Frecklington come up trumps, she will be only the second state conservative leader in 34 years to prevail at a general election, behind one-term premier Campbell Newman, who was cut down by Ms Palaszczuk in 2015.
COVID-19 remains the wildcard. A June 7 YouGov poll for Brisbane's Sunday Mail had Labor four points adrift of the LNP two-party-preferred, 48 per cent to 52, and Ms Palaszczuk's successful management of the pandemic to date was expected to induce a strong bounce for her party.
While the government has made up ground in Newspoll, the LNP will be reassured to have stayed in front, albeit narrowly. Labor will be particularly concerned by the drop in its primary vote to 34 per cent, down from 35.4 per cent at the 2017 election.
Satisfaction with Ms Palasz­czuk's handling of coronavirus was up five points since June, to 81 per cent, underlining how crucial this is to Labor's prospects when support for the government lags behind her personal numbers.
But the Newspoll of 1000 Queensland voters was taken this week ahead of the revelation of the quarantine breach by three young Brisbane women who flew to Melbourne and returned with two of them infected, forcing schools and restaurants they had attended to close, as well as lockdowns of nursing homes on the city's southside.
Scott Morrison's pandemic per­formance continues to be reward­ed, with 80 per cent of Queensland voters saying the Prime Minister had done well, down slightly from 84 per cent last month. Seventeen per cent dis­approve of his effort.
The Greens' base vote of 12 per cent statewide puts them in a positio­n to challenge Labor for seats in central Brisbane where Greens support is concentrated.
One Nation's primary vote has slipped from the 13.7 per cent returne­d in 2017 to 11 per cent.
The collective 7.2 per cent registered to "others'' in the Newspoll includes Katter's Australian Party, which holds three seats and is strongest in the state's north, and Clive Palmer's richly-funded but underperforming Australia United Party.