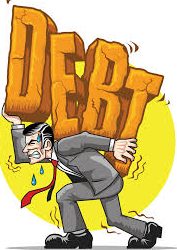 27.10.20.  
Four days to go for Queenslanders. Perhaps too many in the sunshine state must be glued to the Facebook propaganda spread like the virus, rather than the difficult stuff like debt and budget which controls everyone and everything. The PalaceDuck will tell Queenslanders about her budget after she wins the election. Does that mean she views her people as total idiots? Would anyone be fool enough to sign a blank cheque? Nah?
There was a time when a government's poor financial management carried a heavy political price. Reckless financial management was a death knell. But, judged by the experience of Queensland, voters today seem immune to stories of wasteful government spending, rapid growth of public sector employment, escalating government debt and the downgrading of the state's credit rating.
Source: Judith Sloan, The Australian
Queensland's debt is spiralling out of control, but voters unperturbed
Think what you will of the ­Bjelke-Petersen era, his government ran a tight fiscal ship. Under the powerful economic leadership of Sir Leo Hielscher as under treasurer, he insisted that superannuation entitlements of public sector workers were fully funded, a practice not followed by the other states. Spending was tightly controlled and considerable thought was given to the economic impact of revenue-raising options.
The fiscal rot for Queensland set in under Peter Beattie, Labor premier between 1998 and 2007. General government borrowing went from $2.7bn in 2003-04 to $45.5bn 10 years later. Net debt went from minus-$16bn to plus $8.8bn in a decade.
Fiscal matters didn't improve under the next premier, Anna Bligh, and in 2009, the state lost its AAA credit rating.
When the Palaszczuk government unexpectedly came to power in 2015, having defeated the short-lived Campbell Newman LNP premiership, there were plans to control debt and to begin to pay it down. Total government debt was nudging $80bn (including government-owned corporations) but the restructuring of government electricity assets plus some transfers from the government superannuation fund was going to do the trick. There was also a firm commitment not to sell any government assets.
It was essentially a hoax on the part of the Palaszczuk government. Government debt in Queensland has grown rapidly. And under cover of the COVID-19 crisis, total government debt hovers about $100bn, the largest of all the states.
Until last year, Queensland maintained the veneer of proper fiscal practices such as handing down an annual budget, providing four-year forward estimates and presenting a mid-year fiscal and economic update. But there was plenty of made-up figures contained therein, particularly the growth of its own employee expenses.
It is a habit of the Palaszczuk government to underestimate the size of the public sector and its cost. In last year's budget, employee expenses were expected to rise 13 per cent between 2018-19 and 2022-23, reaching $27.2bn. Doubtless this will be a gross underestimate.
While other states sought pay freezes, the Queensland government negotiated a pay rise of more than 3 per cent for state public servants, which included a one-off cash payment of $1250. At the same time border restrictions were being imposed that were sending some Queensland businesses to the wall.
The original plan was to hand down a budget last April – before the federal budget. This was shelved and on July 23 newly installed Treasurer Cameron Dick produced the flimsiest of fiscal position updates. This was followed by September's COVID-19 Fiscal and Economic Review but with little additional information.
The public were simply told the 2019-20 budget surplus had vanished and a deficit of almost $6bn would be recorded.
In 2020-21, a further deficit of $8.5bn is expected, with general government debt rising by $15.6bn or 36 per cent in one financial year. The budget is out of control and only some of it can be explained by the pandemic.
The government has provided no four-year forward estimates or given any indication of when the recurrent budget will return to surplus.
This criticism has been levelled by Queensland-based independent economist Gene Tunny, who previously worked for the Queensland Treasury.
Going by Labor's campaign attack on the LNP's perfectly reasonable plan to return the recurrent account to surplus within four years, however, it's fair to assume Labor has no plans to achieve any surpluses for many years.
Labor's comparison of the state situation to the federal government projecting budget deficits for a decade simply underscores its lack of understanding of public finances. There is no distinction made in the federal budget between recurrent and capital budgets as is the case at the state level.
Of course, no one has ever thought that the Queensland Premier has a clue about fiscal matters. But to claim the plan to employ thousands more nurses was fully funded because the money would be borrowed is both breathtaking and fiscally irresponsible.
When it comes to the government's COVID-19 plan, Unite and Recover: Queensland's Economic Recovery, it's more flim-flam than substance. There are lots of bibs-and-bobs spending programs supporting workers, households and businesses. They have very high administrative costs relative to total spend.
Infrastructure spending is also part of the deal, with the government boasting about "the largest four-year infrastructure guarantee in nearly a decade of $51.8bn".
Mind you, it's very evident that some of the large infrastructure projects haven't been going according to plan. Brisbane's much-vaunted Cross River Rail project is rent with issues, in terms of technical matters, timing and dollars. There are serious problems surrounding the Boggo Road station and the culture within the authority is toxic.
Fixing up the Bruce Highway has similarly been associated with delays and cost blowouts.
Like a number of state governments in the past – Victoria's Kennett government in its final years but many others – the Palaszczuk government has become increasingly attracted to bread and circuses. However, the costs of attracting bread and circuses – the AFL Grand Final, movies and the like – are never revealed: commercial-in-confidence, you must understand, using taxpayers' money.
The trouble for the LNP opposition campaigning to win government is that the public appears to have no interest in fiscal rectitude and disciplined spending. And for that large slab of protected public sector workers, closing the borders has not been a big deal.
The Queensland government went into the COVID-19 crisis badly placed. Government debt was very high and projected budget surpluses were predicated on substantial ongoing coal royalty revenue. The cost of the rapidly growing number of public servants was already getting out of hand.
A day of reckoning will come – and bear in mind the federal government may have to pick up the tab. But in the meantime, there are few indications any Queensland government will see fiscal reason and the beauty is the fault can now be laid at the feet of COVID-19.