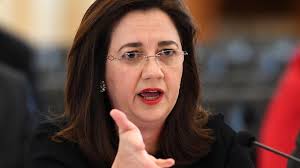 25.03.20.
Queensland's premier PalaceDuck has many brain-farts, most of which really stink, none more so than Adani. Closing borders in times of a virus pandemic is not only wise but essential—if practical. Effective borders have demarcation features such as rivers, oceans, impassable mountain ranges and so on, but the Queensland/NSW border around the coastal region has suburban streets, dozens of them. Tens of thousands of people wander to-and-fro on their daily track like ants around a road kill. In a matter of weeks the grey army would migrate north to warmer climes to winter. Tourism Queensland in 2018 said visitors were a pillar of Queensland's economy with an industry that employs almost 220,000 people and generates more than $25 billion for the state. Oh dear! Did the PalceDuck's brain-fart consider that, especially as there is no wall or hard border to keep people in or out?
A permit system is hurriedly being planned to allow people exempted from Wednesday's lockdown of Queensland to regularly cross the border if needed.
Queensland police confirmed on Tuesday that RBT-like checkpoints will be set-up along the Queensland border from midnight to enforce the lockdown being introduced in a bid to stem the spread of the coronavirus.
Source: Michael McKenna and Craig Johnstone, News Corp
Coronavirus: Permits, checkpoints for Queensland border crossings
Tens of thousands of people cross the border every day in their daily commute to work, particularly between the Gold Coast and northern NSW, and the lockdown is set to severely disrupt already desperate businesses.
The state government has yet to establish how it will identify people who need to regularly cross the border, but State Disaster Coordinator Steve Gollschewski said authorities were working on a permit system that needed to be finalised by midnight Tuesday.
People exempted from the restrictions will include those delivering freight, emergency workers, those travelling to and from work or needing to attend court, and seeking medical treatment.
The lockdown, announced via twitter by Premier Annastacia Palaszczuk on Monday, includes penalties and fines of up to $13,345 if there are found to be deliberate breaches.
Deputy Commissioner Gollschewski said compassion would be shown but police had the power to fine and restrict access.
"If people choose to do the wrong thing, police always have the powers at their disposal to deal with poor behaviour,'' he told reporters.
"Don't come to Queensland unless you have an essential purpose.
"We accept that there is going to be some significant impact upon persons who ordinarily crossing our border daily.
"However essential services, lawful businesses and trade will not be impacted.
"Essentially, if people are going to do their work, they need to go to a doctor, they need to do something that is about keeping them alive, resupplying, we will work through that with them.
"But if they wish to go for a visit, go to a cafe, it's probably not going to happen.
"We will provide information to these people who regularly cross the border for work purposes and give them advice on how we are going to manage that so we can make that as seamless as possible."
Deputy Commissioner Gollschewski said he hoped to have a permit system set-up that would involve people applying online for exemptions to cross the border. It could ultimately involve a sticker placed on a car or truck.
"We are working on that at the moment,'' he said when asked if a permit system was under consideration.
"I am trying to find something really simple to be able to identify those cars that are able to come through, so that people can get through very quickly."
Ms Palaszczuk told reporters she doesn't want anyone who doesn't need to come interstate to travel to Queensland.
"The Chief Medical Officer has advised me there are serious health issues of people coming from other states to Queensland,'' she said.
Ms Palaszczuk said people should stay in their homes and suburbs.
"People should stay in their own states and in their own suburbs," she said.
"That applies to Queensland as well.
"People in the south-east should not travel to other parts of the state.
"Do not go on holidays. Do not travel unless absolutely necessary."
The Queensland/New South Wales border last closed at the end of World War One to contain the Spanish flu.